From CNA to Management: A Journey Featuring Jobs in Senior Living
If there's one thing to know about senior living, it's that the industry is largely dynamic and ever-growing. It has dramatically changed over the last few decades going from the idea of only being skilled "nursing homes" – lined with sterile rooms furnished with hospital beds – to flourishing retirement, independent, assisted living and memory care communities; communities that foster dignity, independence, purpose and respect.
The upward progression of senior living is a key indicator of the wide net of opportunities within the industry. Whether you're just starting out in your role or are working towards a leadership position, this is an industry that provides stability, room for growth and continued education.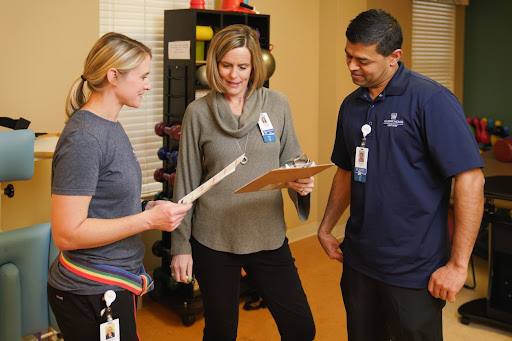 There is also a high need for caregiving within the aging population. According to the U.S. census, individuals 65 and older are projected to outnumber children for the first time ever in U.S. history by 2030 because of a slowing pace of population growth. The demand for health care and senior living professionals is likely to continue to increase as the number of aging adults increases.
Even in the midst of a labor shortage, assisted living, clinical and nonclinical jobs in senior living are plentiful. Masonic Homes Kentucky is always seeking genuine and compassionate individuals to step into these roles. Not just to "work" every day, but to be intentional and passionate people, inspiring lives from the start.
Types of Jobs in Senior Living and Where To Begin
Senior living offers many different career paths, including dining, hospitality, activities, life enrichment, sales and marketing, therapy, administration, nursing and much more! Learn more about our job opportunities.
There are numerous job openings and many industries are attractive for a variety of reasons, but have you thought about the "fun" component? Team members in most senior living communities like Masonic thoroughly enjoy the daily work – especially when the day is filled with building relationships and serving seniors!
"I love it. I wouldn't trade it in for nothing in the world."
– Tracee Gordon, Environmental Services team member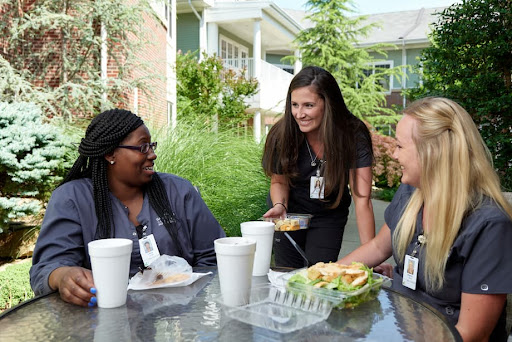 If you're just beginning your journey in senior living, a community-level position may be the perfect fit for you! These positions would include NAs, dining servers, cooks, housekeeping, maintenance generalist, and others. There are leadership roles in these departments as well like hospitality manager, activities and/or life enrichment director, sales director, registered nurse (RN), certified nursing assistant (CNA), or even an Executive Director.
The highest position at the community-level is the executive director as they are responsible for overseeing the entire community; from operations, marketing, hospitality, sales and hiring. They're also the point person for all community team members, residents and family members if there's ever a problem, question or concern.
There are other upper level management and leadership opportunities such as managers, directors and vice presidents. These positions are sometimes stationed at a corporate office rather than within a community. However, every community manages their team differently. Positions such as these tend to oversee other team or department members to ensure operations, management training, programs, continuing education and other vital processes are being carried out efficiently and effectively – they are essentially the leaders and mentors of each operating department and leg of the company.
"It's certainly an awesome community. It's an awesome place to work. I would not think of working anywhere else but Masonic Homes."
-Aaron Jones, Executive Director and Administrator, Grove Pointe Assisted Living Community
How to Consistently Climb the Senior Living Ladder
There are a few steps to take personally that will greatly impact your professional growth and upward movement in your career.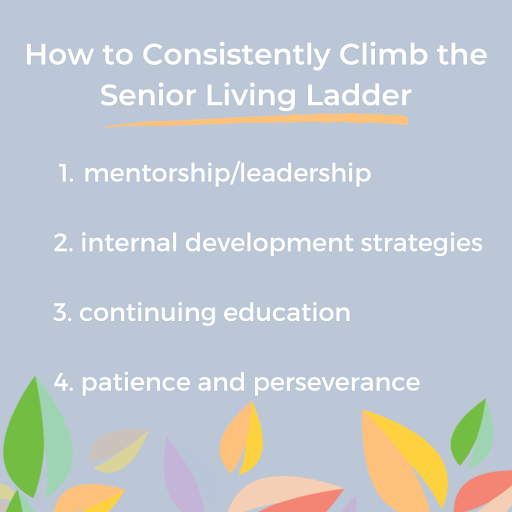 Mentorship and Leadership
Two core values at Masonic include growth and innovation – not just towards our residents, but towards our team, too. Masonic's communities couldn't continue providing remarkable service to residents/patients without trained, educated and dedicated team members. Nor could any other senior living community.
We believe in our team members and their goals, which is why we dedicate ourselves to building a strong foundation of development and leadership tools. When seeking a job in an assisted living or other senior living community, always be sure that the company you're working for has a strong leadership and/or mentorship program.
This could mean having a manager that is always willing to go the extra mile in teaching and helping you advance. It's a bonus if they're also approachable, caring and listen to your ideas, promote growth from within, lead with integrity and encourage professional development. Finding someone who is able to "show you the ropes" is one of the biggest factors in your career success.
Continuing Education
It's also beneficial to work on continuing your education. Our society is constantly working on ways to advance as we learn new methods, new technologies and new strategies across industries. Getting ahead and continuing to build your knowledge in your field of study can only help you.
At Masonic, we help guide and encourage our team members in any way we can. Whatever position or goal they have in mind, we will be there to assist. Having access to proper training and continuing education is another core value at Masonic.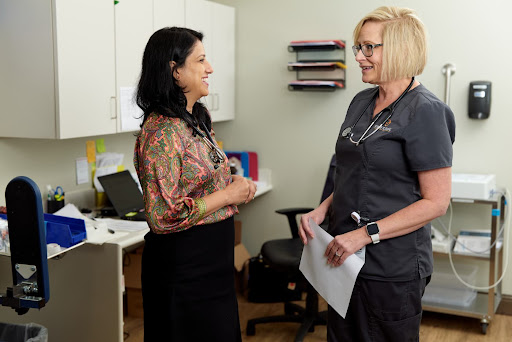 For example, we've developed a Pathway to CNA program called "Learn as You Earn NA to CNA," which is a completely free course to support our team members' clinical journeys. It also allows for staff to still earn a paycheck while receiving the education and training they need to become certified.
"Education is very well-pushed. We have a lot of different programs to help further people's education, starting out with CMT first, and then going into nursing school. Whatever you want to do – administrator? It's here!" – Masonic Team Member
Strategies for Internal Growth Development in Senior Living
Having a good foundation of developmental tools and strategies will help guide you through your career journey. With an outlined plan and an employer who provides growth opportunities, you will be on a fast track for success.
As stated in an article from Senior Housing News and from the perspective of CNA-turned-Chief Operating Officer, different experiences within the senior living industry will consistently present employees with new opportunities to learn and grow their skill set in other areas of the industry. Whether in operations, management, or another department, the lessons learned from the onset of a new job in senior living can lead to many pathways for advancement.
The COO in the article also stated that her impact-driven way of leading has proven to work, and if she can communicate and portray a "can-do approach", others will pick up on that attitude and results will surely follow. Leaders must be proactive in inspiring, encouraging and sparking excitement in others to allow them to perform at their very best.
Success is contagious and part of having a firm grasp on development strategies means putting the right people in the right positions to lift up others and allow them to grow. It's a constant cycle of carrying and lifting when you're part of a dynamic, growing team.
Patience and Perseverance
Apart from the leadership tools and support needed from the employer, you also need to be genuine and true to yourself. Reflection, patience and perseverance through your job in senior living plays a big role in your success. Don't rush your journey – trust the process. Timing is everything.
Make goals and keep goals to reach goals. Everything about climbing upward in your journey is about goal-setting, following through and timing.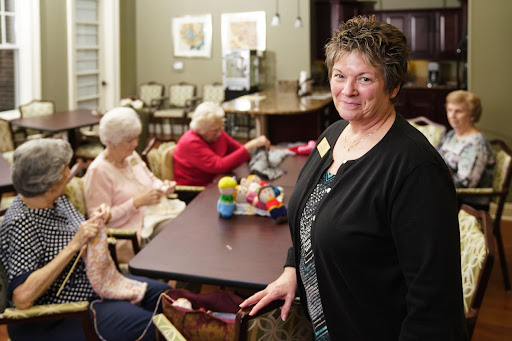 Realistic goals are more attainable. Throughout your process, it's important to consistently show up, be flexible, ready to learn and maintain a positive attitude.
Don't forget to ask questions. Your mentors and/or leaders are there to help you, to answer questions and to help you become a better version of yourself. If they're anything like Masonic, we want to see you WIN!
Advice for Future Leaders
Individuals with the strongest passion and commitment to serving others (especially the aging population) are more likely to be the ones whose journey will consistently move forward as they grow and learn – both personally and professionally.
Adopting the core values of any organization will also help to better understand and excel in your career. By knowing what all of the different positions and departments do, you'll have a fresh, new perspective of all sides while reinforcing those values. You'll be prepared to tackle whatever challenges or obstacles are ahead.
At Masonic, we truly invest in the growth and development of our team members. They represent our passion for inspiring other people's lives and making an impactful difference each day they show up. To explore the variety of career opportunities waiting for you, visit our careers page.
March 23, 2023