Rehabilitation Services
Masonic's rehabilitation centers provide a safe and supportive environment where guests can recover from illness, injury or surgery. With locations in Louisville, KY and Shelbyville, KY, our short-term rehabilitation program helps people of all ages return to living their best lives.
In-House Team of Experts
Masonic's Rehabilitation Centers offer customized inpatient and outpatient occupational, physical and speech therapies tailored to each individual's needs and goals. Our rehabilitation centers are staffed by a team of professional therapists, doctors of physical, occupational and speech therapies, certified exercise experts for aging adults and geriatric certified specialists.
Inpatient Therapy
Short-stay recovery programs are designed for people who require daily intensive occupational, physical or speech therapy as they recover from a stroke or other serious illness, injury or surgery. Inpatient therapy guests will follow a physician-led care plan implemented by a multidisciplinary team of rehab professionals. Our inpatient therapy program provides medical monitoring and care, including pain management, as well as access to amenities, dining and personal care assistance.
Outpatient Therapy
Outpatient physical, cccupational or speech therapy is a good fit for people who have the ability, strength and mobility to manage the day-to-day requirements of their own care as they recover from minor injuries, illnesses or medical events. As an outpatient therapy guest, you will follow a physician-led care plan through a series of visits to the Rehabilitation Center. The type and duration of rehabilitation care therapy will be physician- and team-driven.
FORM DOWNLOADS FOR GUESTS
Medical History Rehab Admission Policies and Authorizations  Outpatient Referral
For more information, or to schedule a tour, call Sam Swope Care Center Rehab at 502.753.8850 or 502.513.1875 for Shelbyville Therapy.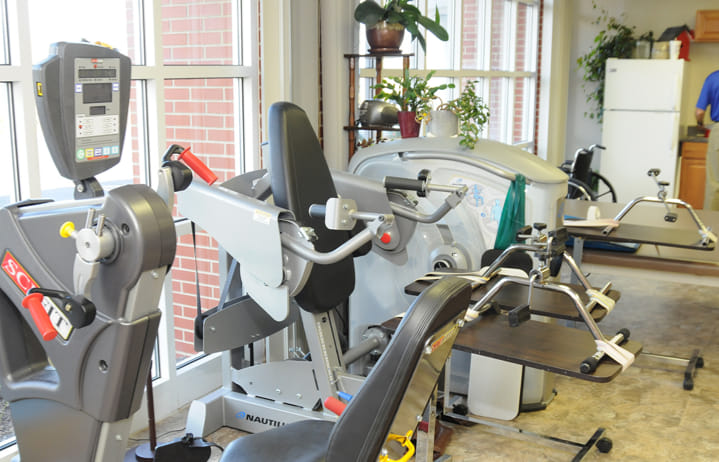 Get Back to Your Life,
Closer to Home
If you're looking for inpatient or outpatient rehabilitation services near you, Masonic Home Shelbyville's Rehabilitation Center is your best path to get back to living life on your terms. Our 2,200-square-foot Rehab Center offers outpatient therapy services, short stays and long-term care. Features include Nautilus equipment, an Activities of Daily Living (ADL) kitchen, and a VitalStim® swallowing program, all supported by ongoing education for patients, families and caregivers.
Masonic Home Shelbyville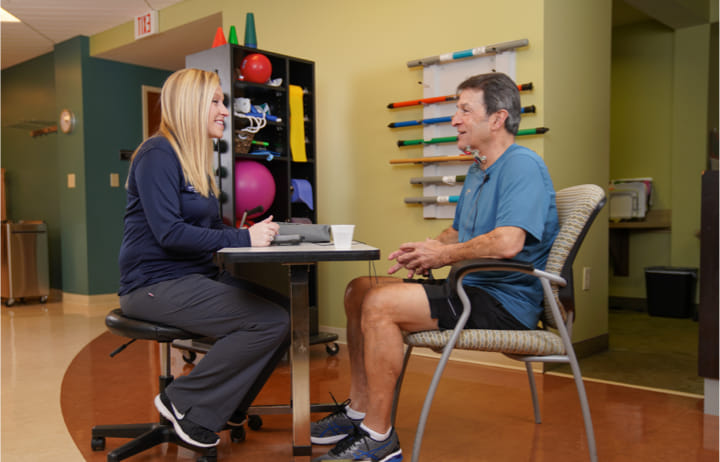 Rehabilitation Services
Redefined
The Rehabilitation Center on Masonic Home Louisville's Campus offers customized physical, speech and occupational therapies for short- and long-stay guests recovering from illness, accident and surgery, and also those who need outpatient therapy. Along with Nautilus® equipment and a Biodex® balance system, an ADL apartment that promotes a simulated home environment with kitchen and bath helps train you to safely function at home. Our short-stay rehab houses also feature in-house exercise equipment and direct access to the Rehabilitation Center.
SAM SWOPE CARE CENTER