Your Guide to Levels of Aging Care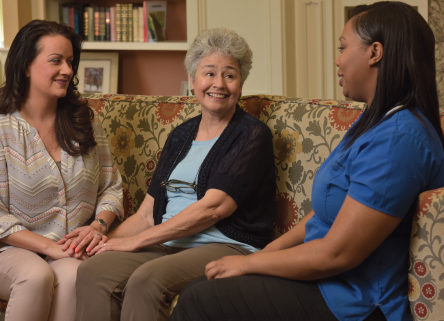 Your Guide to Levels of Aging Care
Personal care or assisted living? The options to aging care sometimes seem dizzying. But with our handy guide, your decision can be simplified.
Continuing Care Retirement Communities, or CCRCs, combine independent living, assisted living, memory support and skilled nursing care, all on the same campus. This broad range of services means that aging adults can find the right level of care for their needs today, and have peace of mind that they will be cared for in the future.
Levels of care available vary among CCRCs, so be sure to look for each level of care outlined below to ensure your community of choice meets both current and future needs.
Home Care
Home care allows older adults to receive the support they need from the comfort of their own homes.
Independent Living
Sometimes called an active lifestyle community, independent living communities allow active, healthy older adults to live life to the fullest in a maintenance-free home. These communities typically have age restrictions which vary by community and may offer social activities, wellness centers and more.
Assisted Living
In Kentucky, assisted living centers are certified to provide assistance with activities of daily living such as bathing, dressing, grooming and instrumental activities of daily living including housekeeping, shopping and laundry. While personnel may offer reminders, residents at assisted living communities must be able to manage their own medications with minimal assistance.
Personal Care
Personal care is designed for individuals who enjoy independence, but who need support with daily living activities, plus medication management. In a personal care environment, the same social activities and services as assisted living are offered, but with the additional benefit of a licensed medical staff.
Rehabilitation
Staffed by professional occupational, physical and speech therapists, rehabilitation centers are equipped to help individuals of all ages recovering from illness, accident or injury, and can be utilized on either a short- or long-term basis.
Skilled Nursing
Skilled Nursing is a service offered within many aging care communities that provides a high level of medical care, provided by trained individuals such as registered nurses and physical, speech and occupational therapists. Services may be accessed for a short period of time, such as during recovery from an illness or injury or on a long-term basis.
May 17, 2020