When Technology Meets Care
Morning and night, any day of the week, Masonic residents always have access to a doctor with new technology.
Maybe it's a rash, or sudden dizziness, or what you think could be high blood pressure, but it's the weekend and the attending physician has gone. In the past, there were three options: get care from a registered nurse, wait for Monday or go off campus to seek treatment. But now, residents at Sam Swope Care Center at Masonic Homes Kentucky and also Masonic Home Shelbyville have another option for care: TeleHealth.
What is TeleHealth?
TeleHealth is the ability to connect a licensed physician to someone who needs his or her services in a different location through technology. In the past, TeleHealth has been primarily used to provide medical expertise in remote areas of the country or in military service. And now, Masonic is the only community of its kind in the area to offer TeleHealth.
Why is TeleHealth important?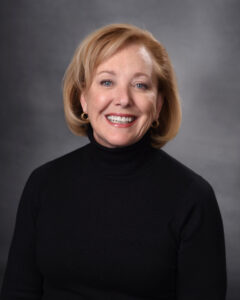 "This will change the way we approach care," said Debra Finneran, senior vice president of health services at Masonic. "We can utilize additional licensed physicians during hours when our attending physicians are not on site."
Debra reports there have been significant decreases in the number of emergency room visits needed for resident medical services since TeleHealth physician services have started at Masonic. New technology is allowing TeleHealth physicians to assess resident medical conditions from the comfort of the resident's room, avoiding costly transport and long waits at the hospital.
How it works
To access TeleHealth, a resident must contact the onsite nurse and describe their symptoms. Then, the nurse will use the TeleHealth portal to dial a doctor for consultation and there is an immediate answer. The nurse, resident and/or family member of the resident speaks to the doctor, and he or she looks at the resident's medical records, current orders, most recent lab work and prescriptions, all of which are available digitally. The doctor can instruct the nurse to take other vital signs, or EKG readings if necessary and see the results in real-time. The doctor can then diagnose and prescribe treatment virtually.
"The technology we now have allows us not only to talk to the physician as if he is in the next room, but for them to see the resident and see the issue," said Debra. "Due to this technology, the doctor can have face-to-face discussions with staff, residents and families about the best care plan."
Where can you find TeleHealth at Masonic?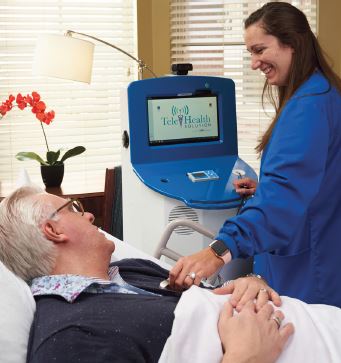 TeleHealth is available at Sam Swope Care Center and Masonic Home Shelbyville from 7 pm to 7 am Monday through Friday, 24 hours on Saturday and Sunday and on all holidays. "I feel very comfortable that we will be expanding this technology to other areas of our care," said Debra. "I see no reason that these services will not grow over time and be made available to even more
residents."
November 21, 2019