Types of Jobs in Senior Living
There's a phenomenon sweeping the United States that's certain to have a large impact on jobs in the senior living industry, including here at Masonic.
The United States Census Bureau projects that by the mid-2030s, adults age 65 and older are expected to outnumber children under 18 for the first time in history. By the same time, 1 in 5 American citizens will be a senior. While increased life expectancy and the aging of baby boomers are two of the main contributing factors to the demographic change, make no mistake: America is getting older.
The industry is bracing for a literal baby 'boom,' and it's bringing with it ample career opportunities.
Corporate/Administrative Jobs
Do you enjoy spending time with aging adults but prefer business casual over scrubs?
Senior living administrators supervise the daily functioning of the community; everything from new residents' admittance, financial matters, reviewing employee performances, as well as screening and hiring new employees is conducted by the administration department.
Administrators serve as ambassadors to the senior living organization, as well as to the communities they serve. They work to actively network with, promote services and seek positive internal and external public relations.
You'll need both a strong business mindset as well as a compassionate human-centered attitude for the job.
So if lockdowns and other virtual work circumstances have inspired you to make a career change there are numerous rewarding jobs in the senior living profession.
Medical Jobs
A Director of Nursing (DON) monitors the overall well-being of residents as well as manages the day-to-day clinical services of the community to ensure residents'/patients' health care needs are met. The DON wears many hats, but it's all in the service of enhancing the daily lives of seniors in the community.
Senior living is a welcoming industry for Certified Nursing Assistants (CNAs), State Tested Nursing Assistants (STNAs), and non certified caregivers.
Whether you're just beginning your job search or looking for a career shift, medical jobs in senior living are a promising career choice. Unlike in a hospital or clinical setting, you'll enjoy truly getting to know residents/patients through everyday engagement and communication. You'll be empowered with the understanding that you're playing a vital role in the lives of so many. Medical-related jobs provide the opportunity for real-life, long-term connections with amazing people.
Daily duties vary but include taking blood pressure, monitoring health, managing medication, assisting with hygiene, and helping transfer and move residents/patients.
Did you know? Certified Nursing Assistants (CNAs) help patients and residents with their direct care needs, typically under the supervision of a nurse. Becoming a CNA also increases chances of being accepted into nursing programs, and is a prerequisite in some institutions. 
Pathway to a CNA
Those who are considering a career as a CNA must have a keen understanding of the pros and cons of working in nursing care. While the job is enriching, a career as a CNA requires training and preparation.
Opportunities for Education
Becoming a certified nursing assistant (CNA) does not entail attending a traditional four-year university. You will be required to earn a diploma or certificate via a CNA training program.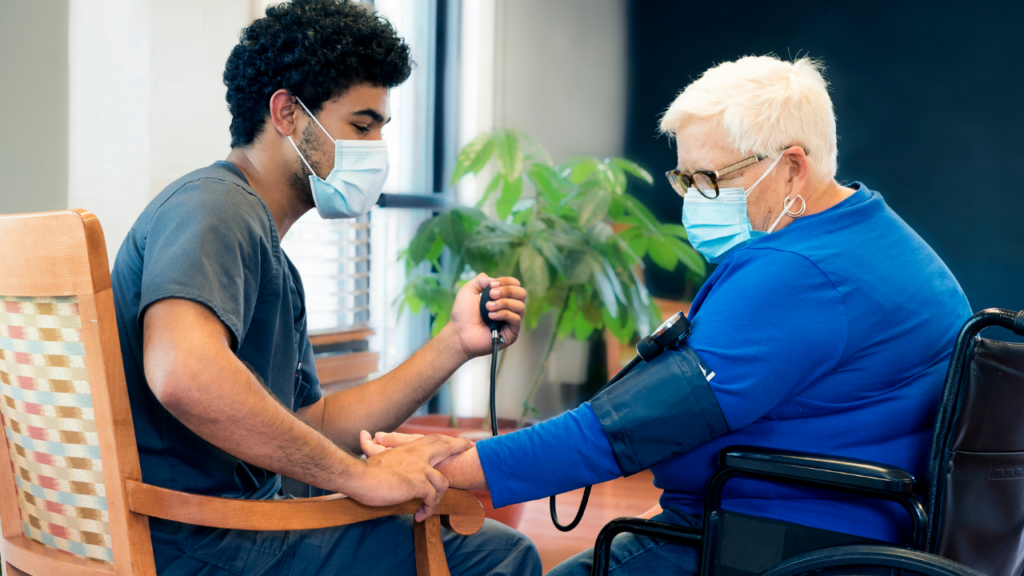 These will include coursework as well as hands-on clinical training that will prepare students for a career in nursing.
Certifications
Certification programs vary by state, but potential applicants should be ready to complete a state-approved program at a licensed institution to receive their certification. The programs are meant to inform and educate students to ensure that they receive the proper skills to provide patient care.
Growth
According to the U.S. Bureau of Labor, the occupation is expected to grow rapidly over the next decade, with reports citing 8% growth over the next 10 years with the most promising outlook for job opportunities being in long-term care facilities and nursing homes.
Our Pathway to CNA
At Masonic, we offer our employees educational opportunities to help them grow in their career. If you're interested, learn more at Pathway to CNA Program.
Jobs in Dining and Hospitality Services
Those with food industry experience may be surprised to discover that dining services in assisted living and other senior communities have drastically evolved in recent years. Baby boomers began reaching 65 as early as 2011 and brought with them a refined sense of taste. Gone are the days of plastic trays, instant potatoes and mystery dessert jello.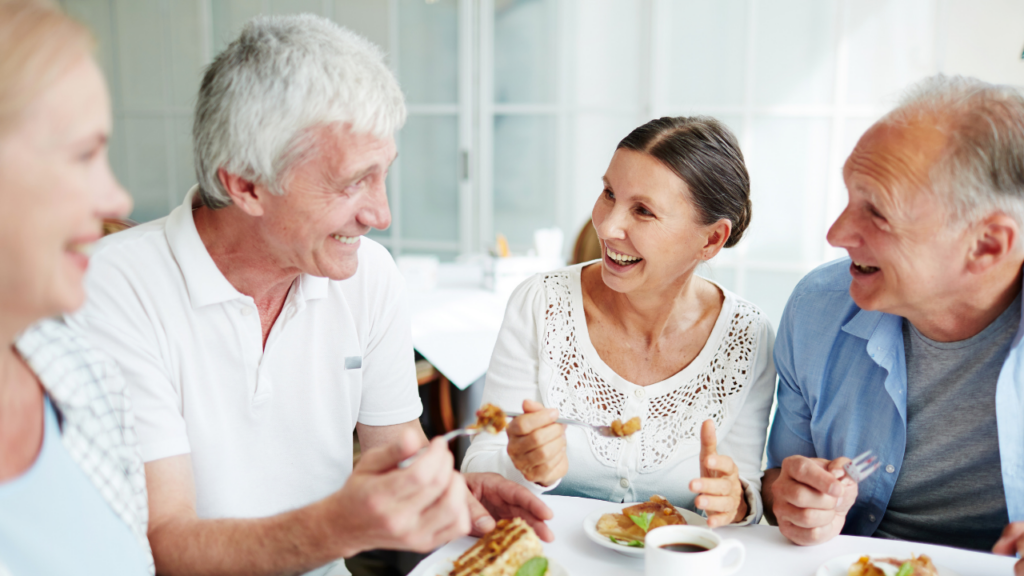 The age group's palates crave healthier and more nutritious dining options. They're challenging traditional norms and setting new standards for cuisine options in senior living communities nationwide.
Think organic salad bars, free-range protein options and meat substitutes for residents who prefer plant-based options. Imagine dining areas that look as if they belong on a cruise ship or in a luxury hotel
Baby boomers, in stark contrast to previous generations, are also not willing to sacrifice their overall dining experience. It's not uncommon for senior living communities to offer a variety of dining room options with some housing multiple restaurants, bistros and cafes to cater to residents' nutritional and social needs.
That's a lot of food preparation. And even more time cooking, serving, cleaning and coordinating the next shift. Senior living dining services essentially function as stand-alone restaurants and are a terrific option for those with hospitality experience, or newcomers that wish to be part of something bigger with room for advancement.
Dieticians and Nutritionists
A growing number of retirement communities are employing dietitians and nutritionists to ensure residents are offered personalized, well-balanced meals that cater to specific health needs.
Personal meal planning is sometimes required if the resident/patient suffers from a disease such as diabetes or gout. Other residents may require a tailored meal plan for weight loss or gain.
For those residents/patients in higher levels of care, such as assisted living or memory care communities, oversight of a dietician or nutritionist is essential in the meal planning and execution of diet-specific requirements.
Additional dietician roles can include coaching residents on proper dietary needs, evaluating response to the meal plan, promoting healthy lifestyle habits, and creating and administering educational material.
Marketing and Advertising Jobs in Senior Living
Moving a loved one into senior living care is a long-term financial investment,so making the commitment to move-in is not a decision most make lightly. 
Sales and marketing personnel are responsible for providing information to potential residents and their families. Luckily, the industry has moved away from informational pamphlets and is turning to social networks for marketing and outreach.
Because a growing number of smartphone users are seniors, a vibrant and professional web presence and marketing campaign are key to staying competitive in the growing industry. Twenty-five percent of seniors over 65 are now on social media so there is ample opportunity for engagement.
Research shows that 46% of those 65 years and older reported using Facebook, and 38% of the same age group say they're active on YouTube, proving that social media crosses generational lines.
If you're well-versed in advertising, sales, communications, public relations, or graphic design, there are promising career opportunities awaiting in senior living.
Life Enrichment and Activities Jobs
Do you have a passion for working with seniors and wish to make a positive impact? Have you previously held a position in leadership?
A Life Enrichment Director or Activities professional is oftentimes considered the "fun job" in communities. You'll foster resident relationships as you implement life enrichment activities such as coordinating personalized social engagement activities, group activities, clubs, outings, and educational classes.
These professionals also have the unique opportunity to not only nurture deep-rooted friendships with residents through one-on-one contact but also upkeep relationships with the residents' families and loved ones.
Additional life enrichment duties might include:
managing activities' program finances and evaluating the related budget
coordinating civic, church or other volunteer groups to visit the community
stay up to date on the latest technology opportunities related to activities
prepare engaging, enjoyable activities that create social opportunities for staff and residents
Teaching in Senior Living
Career opportunities for teachers stretch far beyond the traditional classroom or one-on-one tutoring. And you don't necessarily need a state certification to land a teaching job in senior living.
Clinical and wellness programs know no boundaries. And nowadays directors are more excited than ever to try out new approaches to life enrichment activities, as well as wellness and education programs. Such initiatives are specifically designed to enhance community knowledge and provide a sturdy foundation for better senior care. Teachers and educators are sought after to deliver such programs in a way that's informative and fun for residents.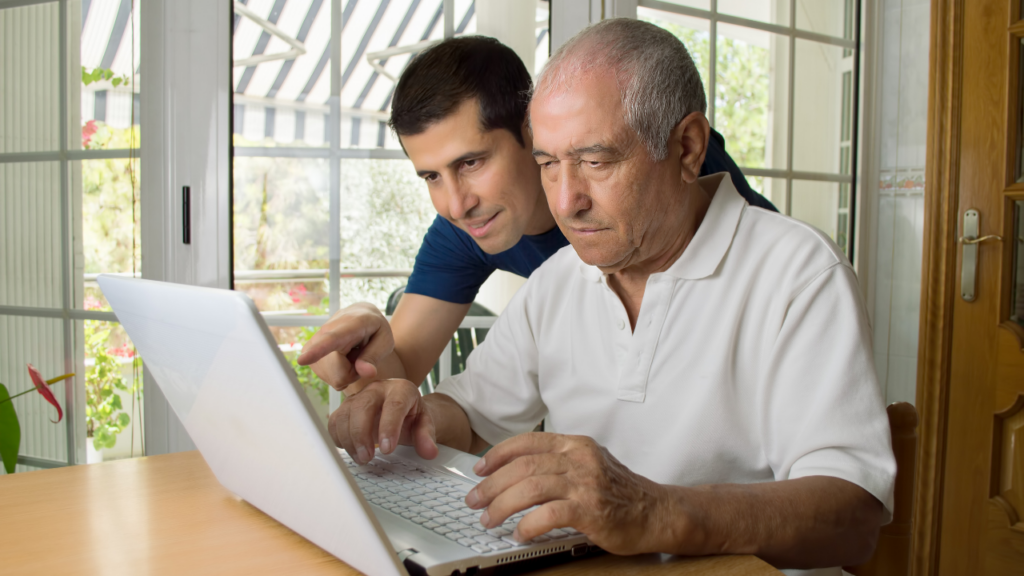 Anyone who learns is a student, so you'll make good use of your instructional skills to exercise patience, organization, communication, creativity, and adaptability.
With the right educational resources, communities can provide outstanding physical, emotional, and intellectual support to positively impact the lives of their residents.
The need for educators in senior living will undoubtedly increase in the coming years. If you're one of the 25% of teachers who are thinking of calling it quits after the last school year, an education job in senior living might be the right move for you.
At Masonic, we believe in multi-generational environments where children and aging adults are in contact. We have a variety of teaching opportunities at Sproutlings Pediatric Daycare and Preschool. This space welcomes both medically fragile and traditional children to learn, play and grow with one another.
Flexibility and Volunteering
Hourly, Part-Time, and Full-Time Positions
The pandemic has had impacts on workplace retention and led to difficult-to-solve staffing issues for many industries and organizations, including Masonic.
This has resulted in many communities offering flexible work opportunities for new and future employees. Increased options for hourly and part-time work make it easier for busy individuals to balance their work/life obligations.
Full-time positions are needed across the industry as a whole, and more opportunities are expected to rise as the percentage of elders in the population increases over the next decade.
Volunteer in Senior Living
Volunteering is a great way to help build relationships and make a difference in your community. Individuals often find that connecting and working with elders leaves a lasting impression that positively re-shapes the way they view both seniors and the senior-living community as a whole.
Looking to strengthen your resume? Volunteering in a senior living community can provide you with vital experience and help prepare you for any career. You'll enhance your organization, communication, fundraising, and teamwork skills, as well as grow both professionally and emotionally.
Opportunities Await
Masonic employs over 700 wonderful employees that we consider family. We're always looking to attract new talent to join our team of passionate people who inspire lives every day.
If you're looking for a career where you can make a difference while making a living, view our current openings here.
April 14, 2022