Transitioning From Your Home to Independent Living
By Kristy Hubert, Marketing Director of Meadow and Miralea Active Lifestyle Communities
Making the decision to move to an independent living community can be exciting, but once that decision has been made there can be a mix of emotions. The excitement of moving to a new community with new friends and opportunities can also be mixed with anxiety as the reality sets in on making the physical move. It can be hard and overwhelming to wrap your head around everything that needs to be done before the move. While some dig right in, others simply don't know where to begin.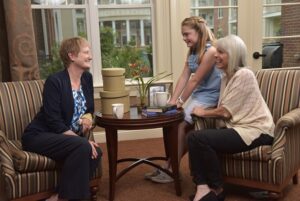 Take it one step at a time — one drawer, one box, one room at a time — and follow these tips on downsizing, organizing, selling and staging your home.
Downsizing:  Letting go of sentimental things is never easy.  Choose your most precious pieces and bring them with you.
Find a downsize specialist/interior designer who can provide professional expertise and sensitive support regarding what to bring and what to let go.
As you give items to family or others, you'll have the joy of witnessing your legacies living on.
Take pictures of treasures and then create a book of memories. No more dusting.
If you have not used an item in two years, it may be time to let it go.
Digitize your photos. Tech savvy loved ones might help with this. Boxes of pictures can be transformed into lovely online albums or coffee-table books.
Many people sell items online or through consignment. There are many options and resources available to you.
Organizing: Find an interior designer or decorator to provide support. These professionals understand optimal space use, creative aesthetics, as well as the critical relationship between human beings and their things.
Prioritize. Coordinate.
Get to know your new home. Use a floor plan to pre-plan furniture arrangements. Remember to consider details such as outlets and door-swings.
Factor all storage available — closets, drawers, shelving units, etc.
Consider your personal lifestyle in your new community. Prioritize furniture choices and placement which suit you and how you want to live.
Do you look forward to less cooking? Pack less pots, pans and kitchen items.
Do you plan to exercise more? Make sure you bring your walking shoes, swimsuits or other small fitness equipment.
Selling: It is a seller's market.
Find a professional realtor who understands you and is knowledgeable of your specific neighborhood.
A realtor can guide you in making certain that your home is ready and priced right. They will assure all processes are ethical and legal. They can help keep you safe. Remember to never let unknown walk-ins in to see your home.
Staging: It does make a difference. Staging will bring more interest, potential buyers and top home sale prices.
Small projects such as a fresh coat of paint, new throw pillows, fresh flowers or arranging décor to enhance the home's best features can make a huge difference.
Work with a professional stager to determine your needs. One to 3 percent of the asking price spent on staging your home can lead to a 3 to 5 percent return.
Information for this article was provided by Stephanie Reese McCrery, Reese Design Collaborative; Lynn Medeiros & Sue Bush, Staging your Next Move; and Lester Sanders, Semonin Realtors.
November 12, 2018