The Ethridges Found More Than Savings in Their New Home
Is aging in place a good decision? Read how Larry and Edith made the move to a care community and never looked back.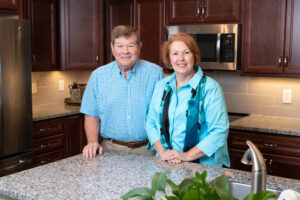 When making important decisions or choices, we often ask, "Can I afford it?" However, when weighing retirement options like aging in place or living in a community, the real question is: can you afford not to?
Making the decision to move into a community shouldn't be made lightly. Determining exactly what you want now, what you may need later and how you want the next 30 years to look is vital. A successful transition requires planning. Knowing your options and what things to consider is a good place to start. Here is one couple's story about making the move to a community.
After nearly 40 years in their Cherokee Triangle home in Louisville, Larry and Edith Ethridge started toying with the idea of downsizing. Larry had had multiple back surgeries and Edith dreaded taking laundry to the third floor of their 120-year-old home. They hated the thought of leaving behind a house full of things for their children to have to clean out one day, and they wanted to make a move before safety became an issue. However, they had trouble determining the next step.
After three years of looking for a house that would fit their needs — a single-story, smaller ranch-style home — they realized that every house they looked at still had the looming problems of home repair, trash removal and yard maintenance.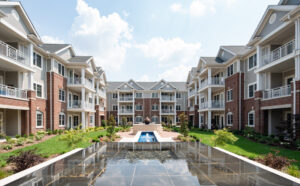 "We realized it wasn't just about being on one floor, but it was more about the lifestyle," said Edith. That's when a friend told them about Meadow Active Lifestyle Community located on Masonic Homes Kentucky's Louisville Campus, which was in the construction phase. It offered solutions to all the things on the Ethridges' list. They took a leap of faith, and in July 2018, they became the first residents at Meadow.
After moving in, there was one life-changing benefit that the Ethridges hadn't anticipated: time. Time originally spent cleaning and maintaining their home could now be spent doing what they want. "I didn't realize how meaningful all the different amenities and activities would be to me, especially the art and pottery studio," says Edith. Now the anxieties and concerns for their future have been replaced with the camaraderie of new friends and the freedom to just enjoy life.
For people like the Ethridges, research and planning can help identify what is actually most important to them and their future. Others may need to take more of a visual approach by seeing the numbers.
"I think a lot of aging adults understand the value that community living offers, but I hear so often that they fear it is beyond their means," says Masonic's Vice President of Sales, Brent Bayes. "Paying off one's house does not provide for the maintenance and upkeep of the property, nor does it create a plan for managing future health care costs. It's inevitable — as you age, your health care costs and needs will increase."
Aging in place comes with costs but not a back-up plan for future needs. The graph below gives a ballpark range of the cost of just maintaining a home for 10 years.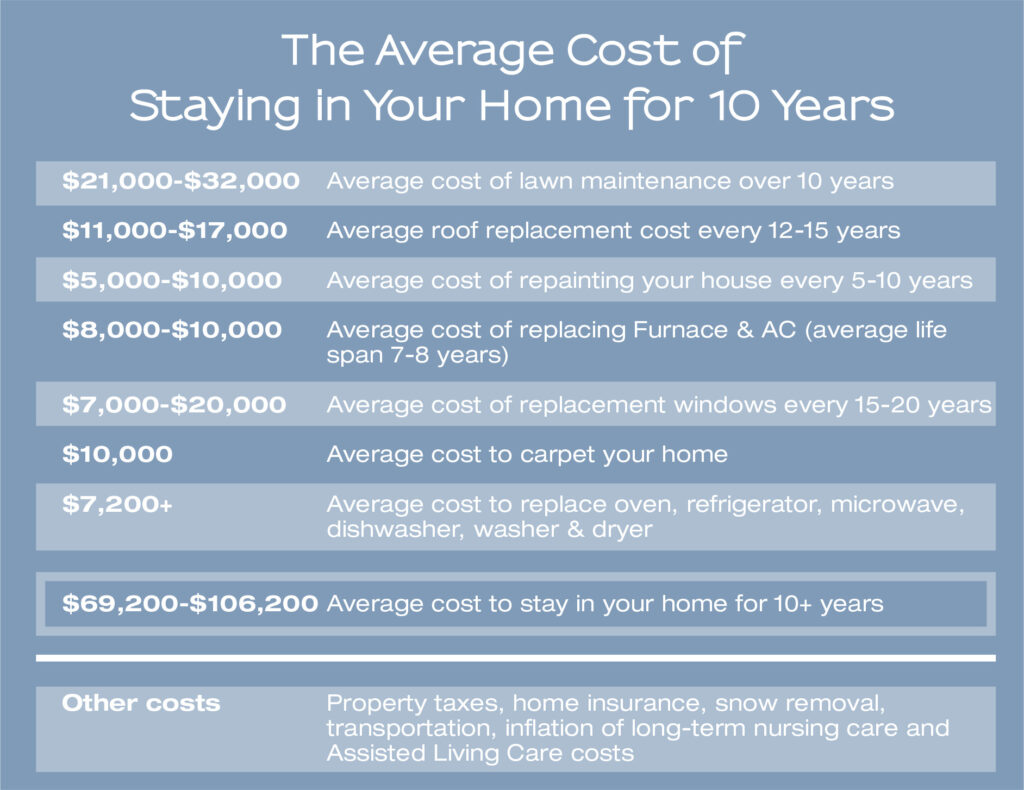 As you look at the numbers, remember that over the past two years, average home upkeep and expenses have increased. Plus, while you can't determine your exact health care needs in the future, most aging adults will need to access some form of care. An average cost today for private pay skilled nursing is $113,500 annually or $9,450 per month, and Life Care residents pay a fraction of that cost.
"A quick look at the price of groceries and gas is proof that the cost to live is going up," Brent says. "The cost to live well is even higher. As we age, we need to think about ways to stay active and socially connected as well as plan for managing health care needs. It's not just about having a home that's paid off."
For residents like Donna Peak, the predictability of expenses was equally important. In the winter of 2019, Donna started thinking about the tasks of homeownership, including mowing, cleaning gutters and general maintenance.
Through the predictability of Life Care, Masonic's entrance fee program, Donna has a compass on monthly costs, priority access to all levels of care and, best of all, peace of mind. "My life is planned out and I don't have to worry about the next step," says Donna. "Life Care simplifies my finances."
---
What are your choices?
When it comes to retirement and planning your next stage of living, it's important to weigh all the options to determine what makes the most sense right now and in the future. Here is a quick overview of choices to get you started.
Age in place (stay in your home)
maintenance expenses
real estate taxes
homeowners insurance
more planning needed
another move may be required
Life Care Community (CCRC)
entrance fee model
highly refundable entrance fee
substantial savings on future care
monthly service fee
all levels of health care offered
Rental communities
rental apartments
minimum age 62
monthly service fee + additional fees
meal program
utilities, cable TV
if other levels of care are not offered on-site, another move may be required
Long-term care insurance
helps with future care costs
does not guarantee where care will take place
does not arrange for care services
limited term for payments in most cases
Live with children
loss of control over household rules and decisions
does not offer health care services
you and your children may not want to live together
another move may be required
your children may not be able to safely provide care
Want to compare your household costs to community living? Download a free cost comparison worksheet, or call 502.515.2455 to find about our upcoming events.
July 6, 2022