The Doctor Is In
The Care Clinic at Masonic Home Louisville offers residents access to a geriatrician
Just like a pediatrician specializes in care for children under the age of 18, a geriatrician is a doctor specifically
trained to evaluate and manage the unique health care needs and treatment preferences of aging adults.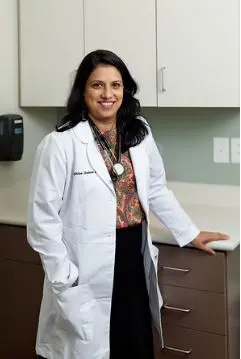 For Josephine Gomes, MD, physician at the Care Clinic, that path included a residency in internal medicine before completing a fellowship in geriatric medicine at the University of Kansas School of Medicine.
"A geriatrician is trained to look at overall health differently," said Dr. Gomes. "We know the aging bodies much better, like a pediatrician with kids."
A major benefit to seeing a geriatrician is that they study all the functional, social, cultural, psychological and cognitive aspects of aging, in addition to the biological processes. Geriatricians look at treatment through a lens that directly tackles issues aging adults may face such as mobility, independence and day-to-day interactions. "We focus on their health," said Dr. Gomes. "But we also are paying close attention to how (their ailment) could impact independence and quality of life as an older adult."
As a conveniently located, on-campus clinic, Care Clinic patients have easy access to a physician who is skilled in all aspects of aging care.
"As someone ages, a lot of processes — like the way the body deals with medicine — change. By seeing a geriatrician, we pay close attention to those differences and are better trained to handle things like medication doses and functional aspects," said Dr. Gomes.
The key to continuity of care is to have a physician home; someone who knows your medical history to help navigate health care decisions. An annual physical helps set the baseline for your overall health. Dr. Gomes recommends seeing a primary care physician for an annual checkup, even if there's no current ailment or pressing health issue.
"We do a comprehensive geriatric assessment. There's a big focus on the functional aspects: cognitive, mobility, social support, mood … the things that would be important in helping an aging adult maintain independence and quality of life," said Dr. Gomes.
Geriatricians can also advise older adults on the best ways to protect themselves from common conditions and ailments. With flu season approaching, Dr. Gomes recommends that aging adults get immunized, stop smoking, practice good hygiene, wash hands before and after meals and be aware of their symptoms.
Care Clinic is accepting new patients and is open to residents and the general public. Same-day and next-day appointments are available, and the Clinic accepts most insurance plans. To learn more or to schedule an appointment, call 502.897.2356 or visit masoniccareclinic.com.
April 17, 2021