Residents Share True Stories of Community Living
Every stage of life presents unique opportunities and challenges. As you age, the decisions look a little different. For some, the idea of moving from their home can seem daunting. Others found making the decision to move to a community freeing. Those who have moved often say, "I wish I would have moved sooner." Once they get involved, many now say "let me check my calendar".
This story is about three residents, what motivated them to move to Masonic, and what their lives look like now.
______________________________________________________________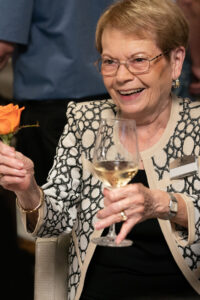 The Gregarious Joiner
Meadow resident Natalie Grubb made the decision to move in 2019. Natalie knew she wanted an active community. "I made friends easily and love the different activities. I participated in the exercise class from day one. I've also started water aerobics and really enjoy it."
Recently turning 91, Natalie exercises daily, helped start a book club, loves happy hour, and enjoys the freedom to try what she wants and decide whether or not it's something she likes.
"I decided to try pottery and then decided it wasn't for me. But, I had the option to try it and then I had the option to change to something new."
Natalie also understands that making the decision to move does not always come easy. "It was difficult to give up my home but after I developed macular degeneration and could no longer drive, it was a blessing to come here. Masonic provides wonderful transportation." I can't even imagine living in my house by myself. It would be so lonely. I treasure my alone time, but I'm just not lonely here. There's a difference. I have people around but still have my own apartment where I can relax."
                                                                                            ______________________________________________________________
The Lone Wolf and Her Sewing Machine
For self-proclaimed introvert Maggie Chilton, her motivation to move to Miralea in early 2022 was quite different. "At the end of my sales tour, they asked if I wanted to see the sewing room. I said that should have been our first stop. On my second visit I brought my cousin and knew I was going to move here at some point. Then, I received a call from Sales Counselor Mary Ayres which peaked my interest and brought me here sooner than expected."
"Sewing has always been a huge part of my life. In my late 40s I started quilting and have been doing it ever since." The call was to share the availability of a desirable apartment, not only two steps from the sewing room, but with a courtyard balcony."
"I spend a lot of time alone and I'm happy as a clam. Plus, I moved here with a strong sense of community with my church," said Maggie. "Meal time is a nice built-in opportunity for introverts to meet others because there is always someone asking if you want to go to dinner."
Living alone for decades, Maggie went through an adjustment period. "I still think it was a good decision to move. I made the decision when I was still active and able to go through the process." Maggie, who turns 74 in September, added, "I saw the cost of moving as embedding long-term insurance into my future."
She's even made a couple of close friends who share her love for quilting. "We like to go to quilting stores. I never thought I would be the kind of person who would go on a road trip but now I could see that happening."
______________________________________________________________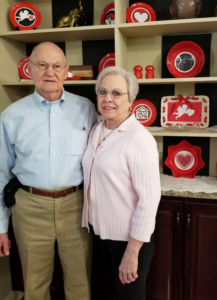 The Up-for-Anything Couple
For husband and wife, Jack and Jeannine Chivatero, the resounding advice to other couples is "don't wait too long to move."
"It's truly independent living. We wanted to move while we could try new things but still enjoy the things we love to do outside of the community," said Jeannine.
Jack added, "Don't wait for something bad to happen and you have to move, or until one of you have passed. If you're married, move here and enjoy it together."
It was even a gift for their kids. "We didn't want to be a burden on our kids and their lives. Our kids have said it was a wonderful thing to do for them. They don't have to worry about not being right around the corner," said Jeannine.
They were shocked to find yoga become a weekly part of their routine. "One thing I thought I would never try is yoga," said Jack. "I said I would never do yoga and here I am in my 80s looking forward to it every Wednesday."
Another benefit to community living was meeting new couples and residents. "We make an effort to invite new residents to dinner. Everyone here has such a wonderful story."
                                                                                            ______________________________________________________________
Checkout enhanced photos, floor plans and videos of Masonic's Life Care Communities at masonichomesky.com. Click here to sign-up to receive invitations to our special events.
September 15, 2022