Role Reversal: Tips for Partnering with Parents on the Next Stage of Life
Having patience and a game plan is important when exploring senior living options.
The U.S. has entered the silver tsunami, where the surge of baby boomers — more than 20% of the population — are turning 65. With people living longer, the senior living profession will see more people accessing aging care services. But for now, many baby boomers and Gen Xers are exploring senior living through the eyes of their parents, in the role of adult children.
Whether being invited along by their parents on their exploration of senior living options, or taking the lead, the role of the adult child is one that should be handled with patience and a game plan.
Louisville, Kentucky, residents Jenny Nelson and her sister Kym started the legwork to find the perfect place for their mom, Donna Carlson, who lived in Paducah. They focused on presenting their findings in a no-pressure way to encourage their mom along in the process.
"My older sister and I both live in Louisville," said Nelson, "and thought it would be helpful to have additional support as mom got older, especially after our dad passed away."
According to Nelson, they knew at some point that their mom would probably need a higher level of care. A continuum of care was a top priority so they wouldn't have to put her through the physical and mental process of another move.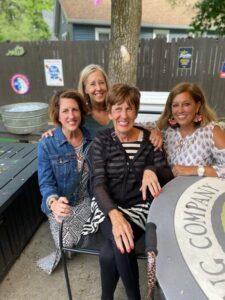 'Start the process'
The sisters began their search at Masonic Homes Kentucky, and scheduled a tour of the Miralea community. They found – amenities and conveniences like a full-service restaurant and scheduled transportation. However, it was the tour of Miralea's sister community, Meadow, where they found the perfect courtyard apartment for their mom. The location, just steps from the hair salon, was an added benefit. "My mom enjoys getting her hair done and this apartment was perfect," said Nelson.
Now they had to convince her.
During their mom's visit, they scheduled a tour. "After the tour, my mom said 'I don't want to talk about this because I don't want to do this now'," Nelson recalled.
To both sisters' surprise, after she returned home to Paducah, she called within a week and said, "I'm ready. I like that place. Start the process." And, they did.
While not everyone's journey goes as smoothly, Nelson's advice to adult children is clear. "Your parent has to be ready. In our case, we were ready first, did the research and presented it in a non-threatening, no-pressure way. If we would have said, 'This is what you're doing,' the conversation would not have gone well. Approaching it with patience, respect and dignity is so important."
After Carlson moved to Meadow, her youngest daughter moved back to Louisville, and now one of the three sisters visits almost every day.
"We thought we would be coordinating meal delivery and transportation to and from appointments. While we still do those things, there is peace of mind knowing if she doesn't feel like cooking, she can just go downstairs and enjoy a meal, and if we can't get her to an appointment, there is safe, reliable transportation to get her to and from," said Nelson.
Another deciding factor was knowing that their mom was home for good. "She never has to leave this community. Now, there is a plan for what's next," Nelson added.
'We noticed all the care'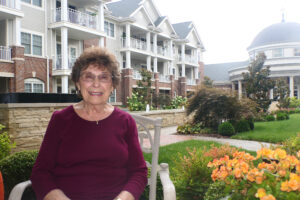 It was his mother's primary care physician who prompted the conversation for Kevin Borland and his mom, Betty. "After my father passed in 2006, my mother said that she wanted to stay in the home I grew up in as long as she could," said Borland. "With the help of outside services, we were able to make that happen for a few years."
However, his mom developed a medical condition that affects her balance, and during a doctor's appointment following a minor fall, her physician actually suggested that she discuss a plan so she would no longer be living alone.
"I would suggest adult children concerned about their aging parents living alone might start that conversation by involving their health care provider," Borland said. "Siblings should also have open and honest communication about what they want and how much of a role they are able to commit to."
His mother had lived in Arizona for more than 40 years, so moving to Kentucky would be a big change, especially with the seasons. Borland said, "I suggested she come for an extended visit during the holidays so she could feel the most difficult of seasons, experiencing snow, ice and much colder weather." This also allowed him time to schedule tours and assess all the region had to offer for aging adults.
"I wanted to make sure wherever she went, she would be able to easily and seamlessly advance to higher levels of care when and if it were needed," Borland said. "I also wanted a community relatively close to my home. I wanted it to be easy to visit frequently."
When it came to what was important to his mother, it was amenities, amenities, amenities. "I think she desired a place where she would be comfortable with the level of care provided in the community," said Borland. "Since she was coming from a different state, she wanted an environment with a lot of activities and opportunities to make new friends." She also wanted an aesthetically pleasing, well-kept environment that didn't feel institutional or impersonal.
Over the years, Borland had attended many events at The Olmsted, an event venue located on Masonic's Louisville Campus, but he said he had never been in the actual communities. "I had always admired the campus-like feel and the beautiful and well-cared-for landscaping and architecture. When we first stepped in the lobby of Meadow, we just knew this was something entirely different."
"We noticed all the care that went to including numerous common areas to socialize and enjoy … we were blown away," said Borland. They put a deposit down that day on the first unit they toured. "It was perfect for her," he said.
Moving in during a pandemic took some extra perseverance but once settled, his mother found all of the residents to be friendly and welcoming. She starts her morning at her coffee and breakfast club with a group of ladies and then they start discussing their plans for the day. She has a group that plays cards in the afternoon, and another group she joins for the Louisville Orchestra's Coffee Concert Series.
"Some days," Borland said, "she has so many activities, she has to take a nap!"
Everyone wants to safeguard and retain their independence. Admitting we need help is never easy, and as an adult child, it can be difficult to determine when your parents might need a little extra help. Click here to download for a guide to watch for signs, and additional resources about money matters and food for longevity.
September 1, 2021