Ramp Up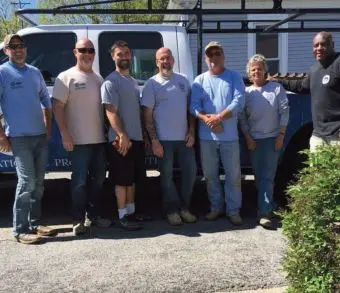 The residents at Village Active Lifestyle Community received a hand crafted wheelchair ramp thanks to Louisville United Automobile Workers' volunteers. The Louisville UAW Local 862 team stays busy around the city, but their work can be seen on Masonic Homes Kentucky Louisville Campus with the installation of a wheelchair ramp for Village Active Lifestyle Community residents. This wheelchair ramp program started seven years ago as part of a national UAW program. The Louisville team is made of up seven volunteers who help with anything from building homes for veterans throughout the city to leading the local wheelchair ramp initiative.
The Center for Accessible Living helps the group identify projects. Then team member, Jeff Redden, works with organization to design blueprints and get any needed permits. Then, it's time to get to work. As for Masonic, this meant using a special material to ensure the ramp was an aesthetical match to the campus landscape. And, because Masonic often requires bigger ramps and is zoned as commercial, the team also worked with Reese Designs to ensure commercial standards were met.
Nick Reid, UAW community services coordinator said, "It's great doing this. When we're out there working so many residents and employees who walk by make a point to come up and thank us."
The group is slated to start a new ramp project at Masonic Home Shelbyville.
Click here for more Community Cares stories.
May 17, 2019