Personal Touch
Crescent Grove brings inspired living to personal and memory care
This spring, Masonic Homes Kentucky unveiled yet another elevated living experience on its Louisville Campus when it welcomed residents to Crescent Grove Memory & Personal Care, formerly Pillars Assisted Care Center.
Pillars, which opened in the 1980s, offered personal care for residents who value their independence, but who may need some assistance with certain activities of daily living. Now, Crescent Grove offers both supportive medical and medication management, plus the safety and security of memory care—all with an elevated look and feel in keeping with the tradition of Masonic's other inspired living communities. Crescent Grove offers daily life enrichment activities, preferred dining experiences, large private rooms and baths as well as suites for couples, housekeeping, maintenance, transportation and more.
"It's not just the physical space," said Nick Cooper, Executive Director and Administrator. "We're overhauling the entire living experience."
Like other newer buildings on campus including Grove Pointe Assisted Living, Miralea Active Lifestyle Community and Meadow Active Lifestyle Community, Crescent Grove is anchored by an open, airy, well-appointed lobby. Residents can choose from five different floor plans, including suites designed for couples. All rooms include access to an enclosed walking path, courtyards and the rest of the verdant, 82-acre Louisville Campus. Dotted throughout the 51-apartment building are luxurious community spaces and dining areas, designed to draw residents out of their rooms to socialize and make personal connections.
"The community spaces are my favorite part of the new building. They're warm and inviting, and help the residents spend time together," said Nick. "Life happens in those community spaces."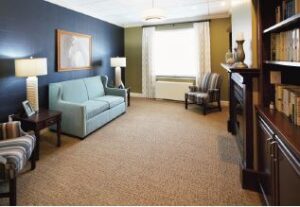 The cornerstone of Crescent Grove is memory care, and the community offers an individualized care plan for residents with varying levels of cognitive impairment. Programs and activities are designed to promote successful engagement with positive outcomes, using sensory pacing and the Montessori Method, which has been shown to reduce anxiety in dementia patients by providing them with engaging activities. Also, the entire building can be secured, providing increased peace of mind for friends and loved ones.
"Our approach to caregiving and activities with different levels of dementia will focus on successful outcomes for our residents," said Nick. "Our staff are trained to deal confidently with all levels of dementia and to celebrate their strengths."
And memory care extends beyond care for the resident—family members can take advantage of support groups, and also opportunities for dementia education, including the Virtual Dementia Tour, an experiential, evidence-based training program that helps friends and loved ones walk in the shoes of those with dementia.
In addition, Crescent Grove has the distinction of being the only community that has collaborated with the University of Louisville Department of Psychological and Brain Sciences in the advancement of providing care for those with dementia and decreased cognitive ability.
Crescent Grove is connected to Grove Pointe Assisted Living, which opened late last year. Grove Pointe offers residents all the flexibility of independent living, but with added assistance with activities of daily living. And while Grove Pointe employs trained caregivers on site, Crescent Grove offers the added security of onsite nursing staff, 24 hours a day. By offering several levels of the continuum of care in one convenient location, residents enjoy the peace of mind of knowing their needs will be met for years to come.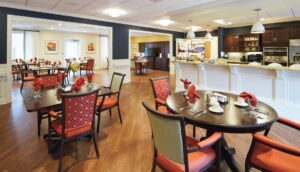 "We have a lot of residents who don't really need the full spectrum of our services now, but recognize that they might need them later," said Nick. "This way, the transition is much smoother when the time comes. The peace of mind is priceless for our residents and their families."
The new building brings to personal care and memory care the same sense of refined, exceptional senior living that has become synonymous with Masonic Homes Kentucky. Now, regardless of where a resident lives on the continuum of care available on Campus, all will experience the best lifestyle aging care has to offer.
"We want inspired living, no matter what level of care you're at," said Nick. "We want it to always feel like Masonic."
February 20, 2020