Pathways to Success: Professional Development Opportunities at Masonic
Professional development is a pathway marked by dedication, learning and seizing opportunities. At Masonic, we believe in nurturing talent from within and providing our employees with the tools and opportunities they need to flourish in their careers. We'll spotlight the inspiring stories of our own team members who have grown and transformed within our organization. These stories exemplify the countless avenues available for personal and professional development at Masonic, showcasing the real-life experiences of individuals who have risen to new heights in their roles.
Sarah's Journey: From Intern to Manager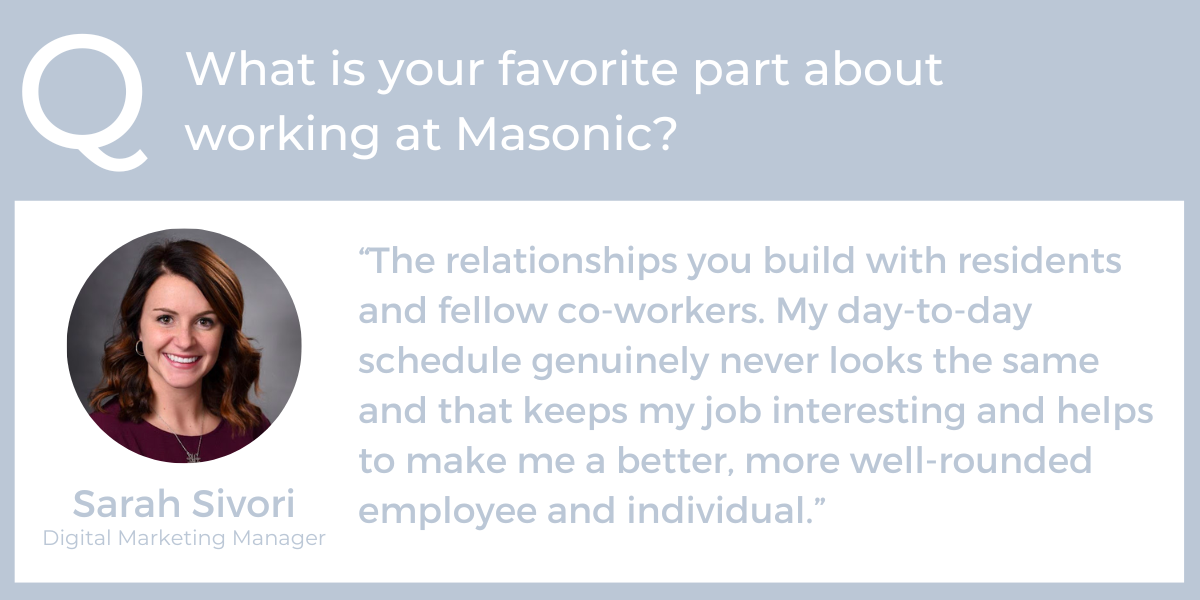 Sarah's pathway at Masonic began as an intern on the Masonic Communication and Marketing team during a momentous period—the organization's 150th celebration year. Her initial role was marked by an exciting array of event-oriented tasks, which she found immensely gratifying. In addition to her event-related responsibilities, Sarah actively contributed to the creation of articles for the employee newsletter, Spotlight. Her duties also encompassed scheduling social media content, proofreading materials and digitizing files. As an intern, she exemplified versatility and a willingness to lend a hand wherever it was needed within her department.
Sarah's eagerness and growth paved the way for her journey from an intern to a digital marketing manager. Her professional development was characterized by an increasing level of responsibility with each title change, progressing from intern to coordinator and eventually to digital marketing manager. Throughout this process, she not only gained more substantial responsibilities but also had the privilege of participating in significant projects. These opportunities allowed her to cultivate her strengths, address her weaknesses and hone valuable skills. Importantly, Sarah learned how to effectively demonstrate her value to the organization, marking a fulfilling and rewarding professional development experience.
Megan Lewis: Advanced from Physical Therapist Assistant to Resident Services Manager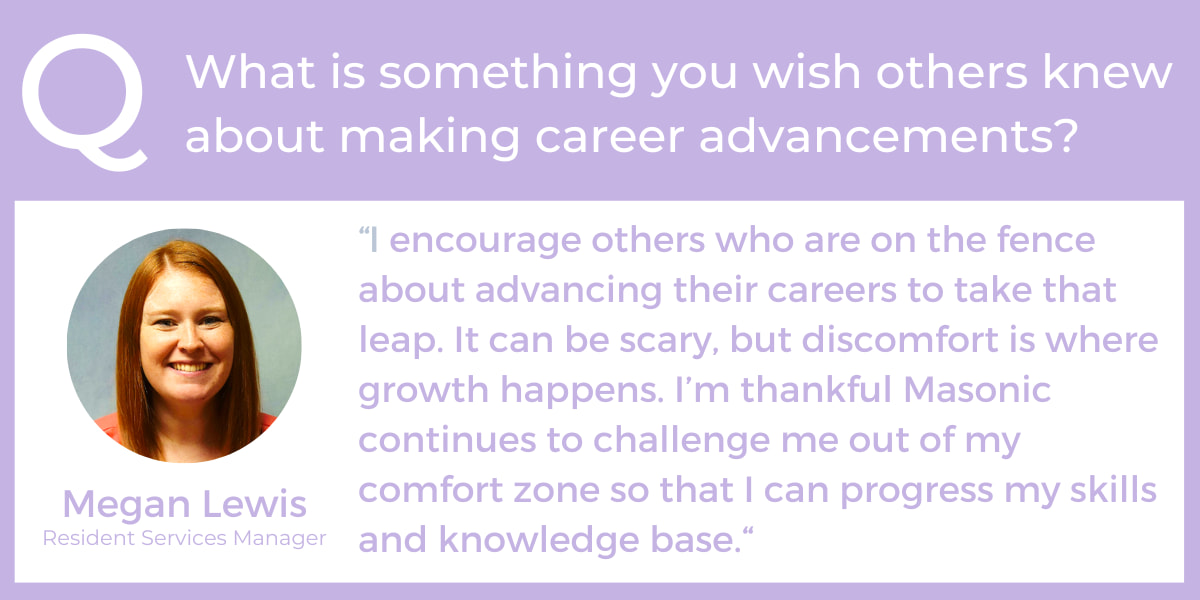 Megan embarked on her professional path with Masonic in July 2017 as a physical therapist assistant. She worked with a diverse array of residents across various care settings, including long-term care, short-term rehabiltation and outpatient services. This experience honed her ability to creatively address the unique needs and goals of each resident. Megan's approach went beyond conventional therapy; she took the time to understand the residents' interests and incorporated these passions into their therapy sessions, making the rehabilitation process not only effective but also enjoyable.
In September 2021, Megan transitioned to the role of resident services manager. This change marked a shift from therapy to a position centered on educating residents and their families about Life Care and the available levels of care within the Masonic community. In her new role, Megan equips residents with the resources and information they need to maintain their independence. The skills and mindset she cultivated as a physical therapist assistant served as a strong foundation for her transition. Her ability to foster meaningful connections with individuals, coupled with her commitment to empowering residents to achieve their goals, proved invaluable in her role as resident services manager in our Active Lifestyle Communities. Megan's dedication to supporting residents through life's challenges continues to make a profound impact on their lives, illustrating the importance of adaptable skills and a compassionate approach to her career advancement.
Tracy's Versatility: From PRN to Director of Nursing at Masonic Home Shelbyville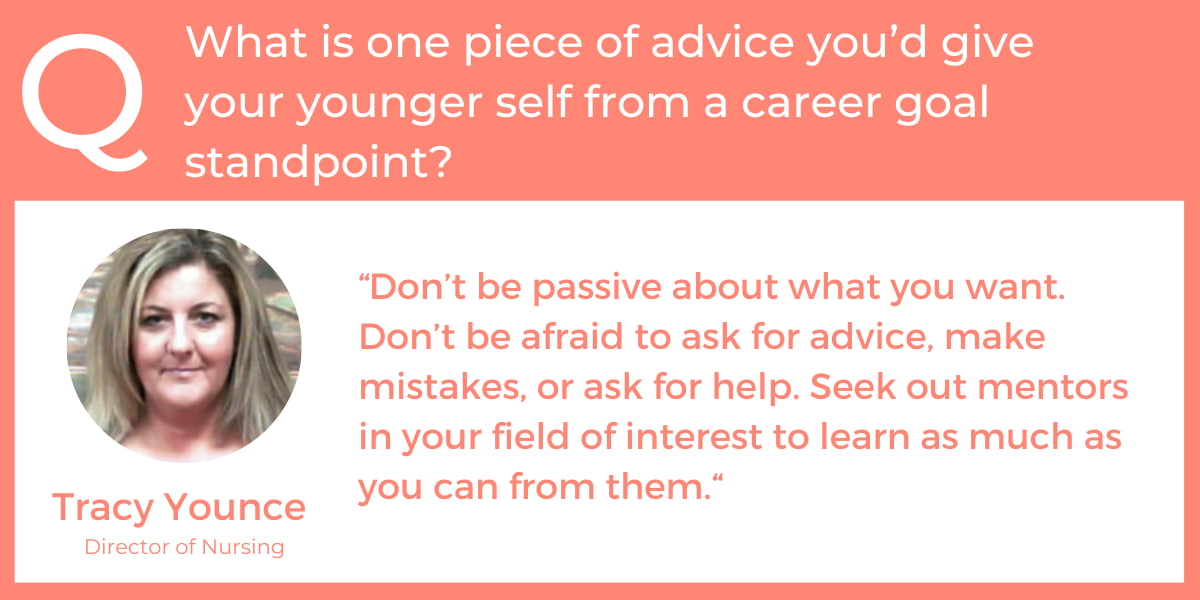 Tracy initially joined Masonic as a PRN nurse and developed exceptional clinical skills, dedication to resident care and a dynamic work ethic. She quickly gained a reputation for her reliability and passion for nursing, earning the respect and trust of both her colleagues and residents.
Tracy's continuous pursuit of excellence and her ability to adapt to new challenges paved the way for her advancement within Masonic. Her path involved taking on increasing responsibilities and demonstrating leadership qualities, which led to her promotion. As director of nursing, Tracy plays a pivotal role in overseeing and managing the nursing department's daily operations, ensuring that residents receive the highest quality of care. Tracy's professional development highlights the importance of dedication and a strong work ethic to achieve career advancement.
Educational Pathway: Amber's Professional Development from Teacher to Director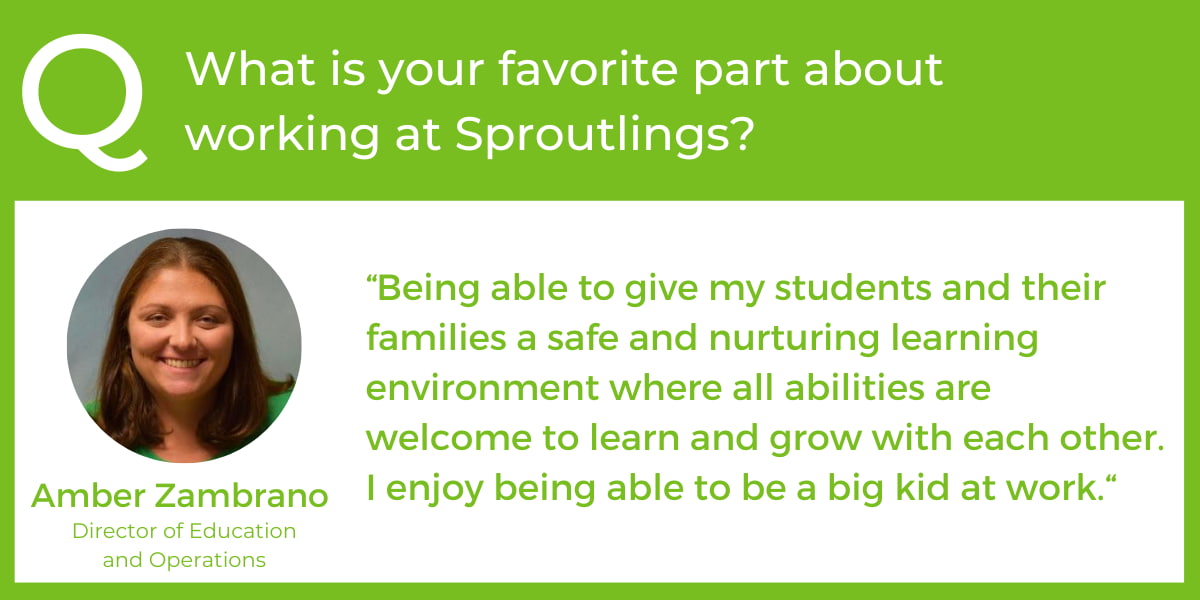 In just under a year, Amber made the significant shift from being a lead teacher at Sproutlings to applying for and securing the director position. This move highlighted Amber's ambition and her readiness to take on new challenges in her pursuit of career growth and professional fulfillment. Masonic played a vital role in supporting Amber's transition by recognizing the transferable skills she brought to her new role.
Her prior experience as an assistant director at two other centers provided her with a solid foundation of leadership and management skills that she seamlessly applied in her role as a director at Sproutlings. Amber's dedication to continuous learning and specialization in the field of early childhood education has been instrumental in her career growth. As a director, she and her team regularly update their knowledge with new techniques and approaches to create an optimal learning environment for their students. Her pathway from a lead teacher to a director shows the potential for growth and success within Masonic and serves as an inspiration to others in the field.
Promoted from Within: Falina's Rise to Assistant Director of Nursing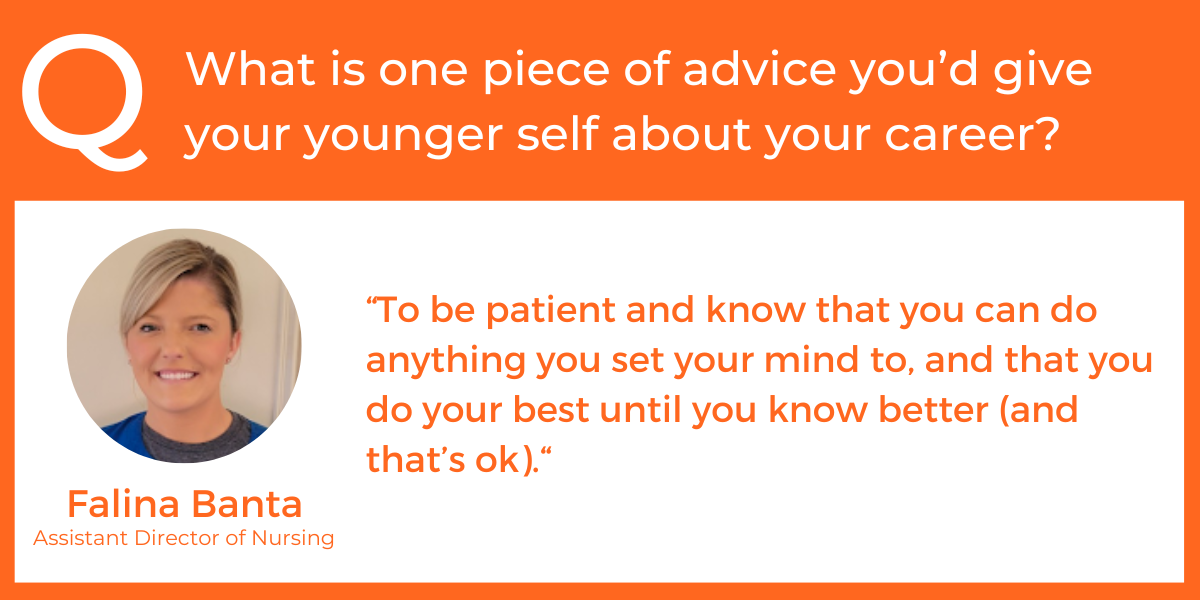 Falina began her career at Masonic's Shelbyville Campus in 2014 as a certified nursing assistant. While pursuing her education she not only worked full-time but also obtained her Certified Medication Technician (CMT) certification. In 2018, her commitment to professional growth led her to earn her RN license. Falina's dedication shone through as she worked as a staff RN for a year, demonstrating her unwavering commitment to providing excellent resident care.
Her journey within the organization was marked by persistence and a strong work ethic. After initially being turned down for a unit manager position, Falina did not give up on her aspirations. She reapplied for the role when it became available again and secured the position. This role, with its demanding responsibilities, taught her valuable lessons in time management. As she continued to grow within the company, she eventually reached the position of assistant director of nursing. Falina's story underscores the importance of recognizing and promoting internal talents within an organization.
Ready to Find Your Professional Development Opportunity?
These team member testimonies highlight the importance of dedication, continuous learning and recognizing internal talents as key elements in achieving career advancement within the Masonic Homes Kentucky community. If you're ready to advance your career, apply today to one of our many career opportunities or call 502.259.9627 to speak with our human resources department to learn more! We'd love to hear from you and discover where you will thrive at Masonic.
September 25, 2023