Meet Todd Lacy, Presidents at Masonic Homes Kentucky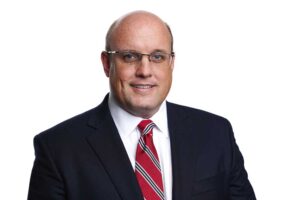 Some people stumble into their chosen profession by happenstance. Others spend decades searching for a vocation that will bring them fulfillment. For Todd Lacy, a career in aging care services has always been a part of his plan.
Todd's wife, Kristen, said Todd was instinctively drawn to health care and has long had an uncanny insight about the direction it's heading. Todd's early mentors included top leaders at Louisville-based health care and hospital corporations.
"These accelerating businesses in the 1990s, especially hospital systems, were having a great impact on the community around me. I knew continuing that success was something I wanted to be a part of my career," said Todd.
After earning bachelor's degrees in accounting and health care administration from the University of Kentucky, plus a master's degree in business administration from Indiana University Southeast, Todd embarked on a career. He directed all accounting and financial services for EPI Healthcare Corp., the largest long-term health care provider at that time in Kentucky, for more than 10 years before joining Masonic in 2007 as Chief Financial Officer.
During Todd's tenure, Masonic has added hundreds of new residents and employees to its communities.
"We have an exceptionally talented team with immeasurable passion and proven performance that meets the needs of aging adults. I am excited to assume this role and for the future of the organization," said Todd. "We will continue to innovate our services, find future growth opportunities and provide compassionate care, remarkable service and unmatched lifestyles for the aging community."
Todd's family includes two daughters: Kaitlyn, a freshman at the University of Kentucky, and Taylor, a junior in high
school, plus two beloved Goldendoodles. Kristen, who has been married to Todd for 23 years, said that a majority of his spare time is spent caring for the girls—coaching their soccer teams when they were younger, and now cheering them on from the sidelines as Kaitlyn runs cross country and track, and Taylor as she pursues her interest in art and music.
And his definition of 'family' extends to Masonic as well.
"He loves the people there—both the residents and the employees," said Kristen. "He calls it a family. He wants to see Masonic and everyone associated with it to succeed and grow."
February 17, 2018