Meet J Scott Judy, Chief Executive Officer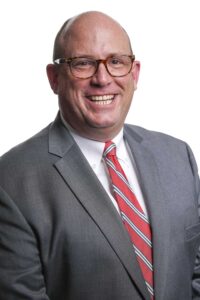 J Scott's career in aging care was inevitable—if not fateful. When J Scott was just 9 years old, his father Jim Judy gathered the family around the dinner table and announced he had taken a new job.
"At the time I didn't really understand what my father did," he said. His father was President and CEO of Kentucky Association of Health Care Facilities for 20 years.
"That's how our family handled big decisions; together around the kitchen table, supporting each other," said J Scott's mother, Nancy Judy.
Family discussions about aging care became routine, particularly since J Scott's grandmother lived in a nursing home in Shelbyville for several years. He remembers visiting her on the weekends and experiencing a place of joy and laughter.
"We were surrounded by conversations about seniors and aging care," he said. "Even as a child, I was beginning to see that nursing homes were a very special place.
Another formative influence in J Scott's life was Masonry. J Scott and his brother Adrian are Masons. Their great-grandfather, George Simon, joined Covington Lodge 109 in 1915. J Scott was raised in 1998 at Louisville Lodge No. 400 and served as Master in 2004.
"Both Masonry and the aging care profession were central to J Scott's childhood and our family life," said Nancy. "I can't imagine a better role for him; surrounded  by family—his Masonic family—to support him."
J Scott's wife of 16 years, Tricia, said Masonry continues to be an integral part of their family life, and the couple seeks out opportunities to incorporate it into the lives of their children Curtis, 14 and Lindsey, 12.
"Even before the kids could walk, we would take them to the Masonic campus and play Bingo in the activities center with the Masons," said Tricia.
In 14 years J Scott has fostered great growth at Masonic, including securing charitable funds to build the Sam Swope Care Center, a 136-room health care center. On the operations side, he oversaw the development of Kentucky's only integrated pediatric child care center and the region's first and only Life Care community. Even before working at Masonic and before serving on the LeadingAge of Kentucky Board of Directors, J Scott visited every nursing home in Kentucky in a capital equipment sales position.
When not at work, J Scott's passions are his family, which in addition to Tricia, Curtis and Lindsey, include Labrador retrievers Hunter, Boone and Hershe. An avid University of Kentucky fan and
outdoorsman, J Scott also enjoys hunting, fishing and playing golf. He volunteers for various outdoor sporting groups, including his son's high school Bass Fishing team.
Through it all, J Scott said he's committed not just to maintaining Masonic's status as the best in aging care services in Kentucky and beyond, but to elevating aging care around the country.
"He always says, even when you're doing great things, you can always do better," said Tricia. "He wants to see the betterment of aging care far beyond what's happening in Kentucky."
February 10, 2018