Masonic Perks Gets You Where You Need to Be
Free TARC Pass Makes Huge Difference in Employees Life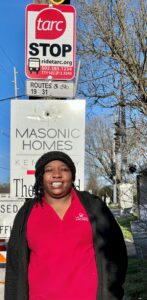 LaKishia Thomas, who works in Masonic Homes Kentucky's Environmental Services department, rides two TARC buses starting at 6:30 am to arrive to work by 7:15 am. To get to work, she paid $1.25 per ride, or $5 per day, and she had to make sure she always had the right change.
Last year, Masonic piloted a program that provides free TARC passes to employees who depend on public transportation to get to and from work.
"The program has been a lifesaver for me," said LaKishia. "It saves me $100 a month, which helps me out a whole lot."
Although there is a TARC bus stop right in front of Masonic, she gets off at a stop up the street due to her bus route.
"I've always rode the TARC to get to work. It's my main form of transportation so it's not a big deal to walk a couple blocks to get to work."
Because the program was a pilot, LaKishia was a huge advocate for making sure it was renewed for 2022. "I would stop by Human Resources weekly to ask if they were going to renew it, and was happy when they did."
"A large majority of any health care companies' workforce are individuals who may not have the means and resources to get to work. Combined with the increase in gas prices, it's taking its toll on many employees and employers," said Chief Human Resources Officer Trasee Whitaker. "When you have dedicated employees who want to be integral team members, the last thing they should have to worry about is how they are going to get to their job. This simple program helps alleviate that stressor and in turn, shows our employees that they are important to Masonic as a whole."
LaKishia is one of many employees who have benefited from this Masonic perk. If you are looking for a job, or a change, go places with Masonic. Apply today to join our team at masoniccareers.com.
June 1, 2022