Masonic Home Shelbyville's Award-Winning Track Record Extends to Employees
Nurse Tammy Roberts honored with statewide award. 
Hard work deserves to be recognized and one of the most difficult decisions Conjuna Collier, executive director and administrator at Masonic Home Shelbyville, makes each year is who on her talented and committed staff to nominate for annual awards. This year, she knew just who to nominate for the Kentucky Association of Health Care Facilities (KAHCF) excellence in nursing care award.
Tammy Roberts has worked at Masonic for 15 years, five of those in her current position as a minimum data set (MDS) nurse, but Conjuna sees her as a "jane of all trades." "There's nothing here Tammy hasn't already done or couldn't do in a nursing capacity in a heartbeat," said Conjuna. She began her career at Masonic as a certified nurse assistant, then a floor nurse, then a unit manager, a few things in between and now an MDS nurse. "Tammy has outstanding clinical nursing skills and her commitment to long-term care is admirable," said Conjuna.
In fact, Tammy is currently taking on a new role at Masonic, this time with an education component. As education coordinator, she will interact more directly with staff. On top of her many different job roles, Tammy brings fun, creativity and innovation to the workplace. "Conjuna always refers to me as the cheerleader. I try to encourage people and try to make people happy at work." Tammy led the community Christmas parade, spearheaded the "Biggest Loser" competition on campus where staff lost more than 100 pounds together, designed and implemented a new maintenance logging procedure to increase efficiency, planned the community haunted house for Halloween and started a dance team for employees. "I figure that people need stress reduction and people need to spend time with each other. I think (the dance team and Biggest Loser competition) are good for wellness and are a way to take care of yourself," said Tammy. "My mind is always going and coming up with new ideas, and those are some things that I have put in place at Masonic."
Tammy's work ethic extends beyond the walls of Masonic. "Her dedication to her family has enhanced her compassion," said Conjuna. Tammy, a single mother, raised her four children—Michael, Marcus, Michelle and Megan—and then adopted a threeweek- old baby named Armani, whom she calls Mani. When Mani, now almost 5, was removed from a difficult home situation and needed a new family, Tammy knew she needed to step in and help. "Adopting wasn't in my plan, but sometimes great things just come your way."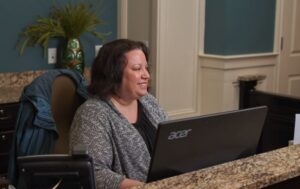 Tammy received the Excellence in Nursing Care award at the KAHCF Quality Awards Banquet at the Galt House in November 2018. The Best of Kentucky honorees were selected based on Center for Medicare and Medicaid Services (CMS) star ratings of four or higher, and then satisfaction surveys of residents and families. "I don't think there is a more hardworking, deserving nurse to receive this award," said Conjuna. While Conjuna wasn't shocked to learn who won the award, Tammy was.
"I was very surprised (when I won). Masonic has always been very good to me, I've had lots of different roles and growth over the years," said Tammy. "I'm very fortunate that (Masonic) invests so much time and training in me."
In addition to Tammy winning an individual award, Masonic Home Shelbyville won the Best of Kentucky Nursing and Rehabilitation award. Additionally, two other long-term care providers were honored: Joan Morrison won volunteer of the year for her tireless dedication to serving others, and Dona Nation won the Kentucky Health Care Foundation scholarship for her work as a medical
records director.
Applicants are judged on their professional qualifications and commitment to the profession. Both Joan and Dona were nominated for work at Masonic Home Shelbyville.
"I am excited to see Tammy, Dona and all of our caregivers honored for their work," said Conjuna. "It is wonderful to see them recognized for their dedication and commitment to quality care to their residents. And Joan, who passed away earlier this year, we definitely miss her spirit and dedication to volunteering."
Masonic Home Shelbyville is the top choice for premier assisted living, personal care, skilled care and rehabilitation services. The award-winning community is situated on rolling farmland east of downtown Shelbyville. Masonic Homes Kentucky was recently named a Great Place To Work® for the second year in a row, and also got a place on Fortune Magazine's Best Places to Work in Aging Care list.
March 17, 2018