Masonic Home Shelbyville Named Best of Kentucky in Nursing and Rehabilitation
For Immediate Release
November 29, 2022
Contact: Nicole Candler, ncandler@masonicky.com
Shelbyville, KY – On Thursday, Nov. 29, the Kentucky Association of Health Care Facilities/Kentucky Center for Assisted Living (KAHCF/KCAL) honored the top long-term care facilities in Kentucky at their quality awards banquet. Masonic Home Shelbyville was honored to be a part of this elite group of leaders in the industry.
"There has never been a more important time to honor our nursing facilities and their staff. The dedicated providers and staff have been the picture of strength and compassion this past year. As we struggled with the pandemic, threatening viruses, workforce shortages, and natural disasters, they confronted these struggles with a positive spirit and their residents at the forefront," said KAHCF/KCAL President Betsy Johnson, "We are honored to recognize these providers as the top of their class."
The Best of Kentucky – Nursing and Rehabilitation honorees must possess a Centers for Medicare and Medicaid (CMS) star rating of four or higher to apply. Masonic's Shelbyville Campus received the highest rating of 5-star by CMS.
"As a long-time recipient of the Best of Kentucky award, we are honored to remain among the best of the best," said Masonic Home Shelbyville Executive Director and Administrator Janie Cunningham. "This type of honor is a direct reflection on the wonderful caregivers and staff who are dedicated to providing our residents and patients with quality, compassionate care."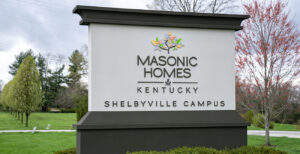 ###
About Masonic Homes Kentucky
Founded in 1867, Masonic Homes Kentucky's aging care services include independent living, assisted living, personal care, rehabilitation therapies, memory care, skilled nursing care, home
care, dialysis, medical clinic and child development. Its campuses are located in Louisville, Shelbyville and Northern Kentucky. For more information, visit www.masonichomesky.com.
About KAHCF/KCAL Established in 1954, the Kentucky Association of Health Care Facilities (KAHCF) is the trade association that represents the proprietary and nonproprietary nursing facilities and personal care homes across the Commonwealth. Kentucky Center for Assisted Living (KCAL) was established in 2018. One of the state affiliates of the American Health Care Association/National Center for Assisted Living, KAHCF/KCAL provides a wide variety of services to member facilities including legislative and regulatory activities, professional development, statewide recognition programs, publications, media relations, research, and advocacy relations.


November 29, 2022