In Stitches
The needlework group at Miralea talks, laughs and donates nearly everything they make.
Comradery, learning and a sense of pride are abundant every Thursday afternoon at Miralea Active Lifestyle Community as the women's needlework group's laughing, cajoling and clicking of knitting needles floats down the halls.

"One of the unsaid motivating factors behind the ladies joining this group is that there is something powerful about women together," said Mary Ayers, Miralea Senior Living Counselor and creator of the needlework group. "When many of us think about happy times, it's often with a group of female friends. Having a group of women together where the purpose is to just be together is a unique thing."
Mary started the group two years ago as a way to stay in touch with the Miralea residents and to have a feel of the community. The group was created to engage anyone who participates in a hobby that uses a needle or hook, like knitting, quilting and crochet. However, the main purpose is to build a sense of community for those who participate. All that is required to join is a pair of needles and a willingness to learn.
"Some ladies come here to advance their skill. Some teach and help each other, and I'm here to help with what they can't do," said Mary. "I'm an 'empowerment' type of person. Anybody can do anything that they want to do, so we encourage them to come. Between the mentorship of the group and myself, we can help anyone do it if they want to."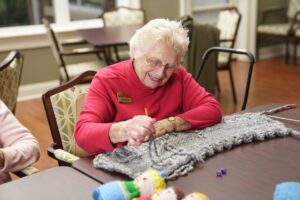 Miralea resident Gladys Pope was an unlikely knitter when she joined the group. Unlike many of the group members who learned to knit as children, Gladys had never picked up a pair of knitting needles before. She is also legally blind. Her day-to-day had become monotonous and she craved a renewed sense of purpose. She wanted to expand her activities and try something new. Fellow resident Marilyn Trier taught her how to knit and she's been steadily improving on her skills ever since."I've learned you don't need to have sight to knit," she said.
Like most needleworkers, the women make far more projects than they can use personally, so aside from the occasional gift made for a new grandbaby, nearly all of the groups' creations are donated. Popular projects include baby dolls and doll blankets for the children at Sproutlings Pediatric Day Care & Preschool and "twiddlemuffs" for use in memory care. Twiddlemuffs are knitted hand warmers that provide sensory stimulation for people living with memory loss. They keep restless hands busy and soothe and comfort those who experience anxiousness or agitation. To date, the group has donated more than 90 twiddlemuffs and three dozen baby dolls and doll blankets.
"The feeling of doing something for somebody is above and beyond. It's better, I think, to give it to somebody you don't even know," said Miralea resident Minnie McDonald.
When the group first began, Mary suggested the projects and donor recipients. The joy of giving took hold and now the group members continually think of new projects and new donation recipients. The members of the group have a true enthusiasm for their community that mirrors the feeling of residents throughout Miralea.
Mary agrees: "There is a very happy and giving spirit here, it's a very warm and welcoming community."
To learn more about the Needlework Group and its members, go to /needlework/ or https://youtu.be/5KrI5Znrh0c.
September 19, 2019