Hold the Mail: Maintenance-free Living Makes Life Easier for Snowbirds
Maintenance-free living makes enjoying life easier. Active lifestyle communities work with seniors to upgrade their days.
Dennis and Christel Spetz knew exactly what they wanted when they decided to move to a retirement community. As snowbirds, they wanted to be free of home maintenance responsibilities. They wanted peace of mind that their home was safe when they were out of town. They wanted to know their future needs would be met if their health changed. They wanted to enjoy life.
Village Active Lifestyle Community on Masonic Homes Kentucky's Louisville Campus checked off all their wants, from home maintenance and access to higher levels of care to a security-monitored campus. When they were ready to head south for the winter, they had someone to hold their mail.
After 60 years of enjoying their life and marriage, Christel Spetz passed away, and soon, Dennis Spetz, along with his children, decided that living alone was not the best option. He needed some extra assistance.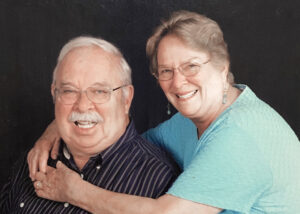 "All we had to do was call Masonic and they guided us through the process of selecting and moving dad to the right level of care," said Kristin Spetz Logsdon. "It was a seamless transition."
Logsdon added, "My dad had macular degeneration so he had a large TV, and loved to drink a dark beer and listen to the Cubs' game. The staff quickly learned this about him and they always had a dark beer waiting in his refrigerator for him to enjoy during the game. He was always treated with such grace."
Crescent Grove Memory & Personal Care transitioned Dennis Spetz just yards away from his Village residence, where he lived until he died in 2021. Moves like this are easier at a continuing care retirement community (CCRC), like Masonic.
The aging care industry is growing, and learning about different options, types of services and levels of care is just the starting point. A good place to begin is understanding the difference between independent living and assisted living.
What is independent living?
It is exactly as it sounds; a retirement or active lifestyle community for active, healthy seniors who are able to live on their own. These communities are designed to make residents' day-to-day lives easier, leaving more time to enjoy carefree living by eliminating normal homeowner responsibilities, like home repairs and lawn maintenance.
The communities have age restrictions, usually 55-plus, are hospitality-driven and offer a variety of amenities and social activities. Residents have their own private residence, like an apartment or patio home, with access to common areas that encourages socializing with other members of the community.
Common amenities include on-site dining, housekeeping, security and ongoing activities. Most also provide on- and off-campus transportation for those who don't drive.
Because independent living does not provide medical care, it is private pay using funds from Social Security benefits, retirement savings, life settlements, annuities and other personal funds. A monthly fee normally covers the cost of amenities, utilities and maintenance.
Assisted living offers balance
For aging adults who need a little assistance like medication reminders, assisted living communities offer a balance of independence and support. With access to staff 24/7, residents receive three meals daily and assistance, as needed, with the functions of daily living including bathing, dressing, housekeeping, medication reminders and laundry.
Similar to independent living, residents have their own private residence. Most communities offer communal areas, dining rooms, life enrichment activities, on- and off-campus transportation, a personal alert system and security.
Kentucky Medicare will not cover assisted living services but some long-term care insurance policies may provide coverage.
Benefits of a CCRC
There is a broader picture to look at when selecting a community. What happens when a healthy older adult residing in independent living needs a higher level of care down the road?
CCRCs, like Masonic, provide all levels of care from independent living and assisted living to skilled nursing, and personal and memory care on one campus. It makes it easier for residents to transition from one level of care to another within the community and stay connected with a spouse or friends in other levels of care.
For example, Masonic's Meadow and Miralea Active Lifestyle Communities Life Care provides residents with predictable monthly expenses, protection from future increases in cost of care and guaranteed access to the communities' higher levels of care.
Click here to download Life Designed Around You to learn more about Masonic Homes Kentucky and the benefits of living at a continuing care retirement community.
May 2, 2022