Help for Those in Need
Masonic Homes Kentucky stays true to its origins by assisting those when they need it most.
Ann Richardson was well acquainted with the tenet of Freemasonry that urges its members to care for the most vulnerable among us. After all, Masonry had been a significant part of her life since childhood. Her grandfather had been a Mason, and her husband, Charlie, joined the brotherhood as a young man. Shortly after their marriage in 1994, Ann joined the Order of the Eastern Star so that she and Charlie could spend more time together with other couples they met through the organizations.
"I basically grew up around Masonry," she said.
But still, she never imagined that she would be the one who needed assistance. For several years, Ann and Charlie lived a comfortable life in Hardin County, KY, traveling the flea market circuit in 14 states, singing gospel music. When not on the road, they enjoyed an active social life with the Masons.
"It was always a lot of fun," she said. "The brotherhood and sisterhood was such a huge part of our lives."
But their happy life together was disrupted when Charlie was diagnosed with emphysema in 2010. Soon, Charlie was unable to travel, and Ann stopped working in order to stay home and take care of him. "The funds just kept stretching and stretching and stretching," she said. In 2013, the couple lost their home and ended up living in their van. For nearly two years, Ann and Charlie parked their van at a flea market in Elizabethtown. On the weekends, they sold what they could at the market in an effort to keep some money coming in—all without telling anyone of their struggles.
"We didn't let any of our Masonic brothers and sisters know," she said. "We kept it hidden. We didn't want anyone feeling sorry for us."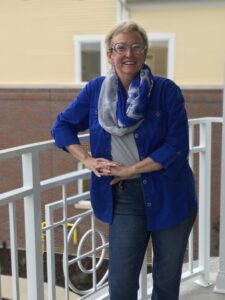 But in October 2015, a neighbor and fellow Mason began to piece the clues together. Ann and Charlie were contacted by Masonic Homes Kentucky and were told that there may be a solution to their living situation on the Louisville Campus. Ann was initially wary of the offer, knowing that there was no way their meager funds could support both an apartment deposit and monthly rent—let alone the costs associated with furnishing an apartment.
But eventually, Ann and Charlie decided that even an empty apartment was better than no apartment at all, so they made preparations to move into Village Active Lifestyle Community. The day before Thanksgiving in 2015, Ann approached her new home, carrying only a box with a few skillets and a tea kettle, plus a couple of quilts. But when she opened the door, she immediately shut it, convinced she had entered the wrong apartment. Inside was a couch, a bed, end tables—everything she and Charlie needed to begin making a home for themselves.
"In 1867, the campus was formed by Masons to support Brother Masons and their widows and orphans," said Jason Wilson, senior vice president of mission advancement and chief development officer at Masonic. "Masonicare is a continuation of that tradition."
In addition, Masonic also provides support for residents who do not have a history with Freemasonry. Each year, Masonic spends roughly $4 million offsetting living expenses for residents in need. "We have a variety of people and residents from all walks of life, and it's important for us to support them all," said Jason.
Ann said that the support she and Charlie received goes far beyond financial considerations. In fact, it was just the beginning. As Charlie's health continued to decline over the next year, neighbors and Masonic staff stepped in to ensure that Ann had the support she needed. During his numerous hospital stays, Ann's neighbors dropped off dinner or tidied her apartment. And when the time came to arrange for hospice care for Charlie, Ann came home to find that Masonic staff had let the hospice staff in and rearranged the room to accommodate his hospital bed and equipment.
"It was just amazing to me that these people that I didn't really know took such good care of me, and they made sure he was taken care of," said Ann. "They were my brothers and sisters. It felt like being taken care of by family."
When Charlie passed away in 2016, the support became emotional. Neighbors rallied around her in her grief.
"They'd let me talk and cry, or tell me a joke and make me laugh," she said. "I always felt completely safe and never alone."
With the support of friends and neighbors, Ann was determined to get back on her feet.
"Charlie had made me promise that I would go on in my life," said Ann. "He insisted that I was still young and he wanted me to be happy. I wanted to honor my promise to him and move on with life."
That constant companionship and support slowly helped Ann look for joy in her life once more. In time she resumed her role as caretaker, and began preparing meals and running errands for residents in recovery from injuries or surgeries. Last year, she met and fell in love with a fellow resident Edward Sapp; the two of them are planning a wedding this summer.
"I'm living proof that Masonicare works," said Ann. "It's enabled me to pick up the pieces and move on with my life."
Now living her happy ending, Ann wants to encourage others in need to reach out for assistance—and for those who are not in need to consider how they might be able to help.
"When you give, it always makes you feel so good to know that you're helping. But you never foresee your own future to see that you are the one who might need help."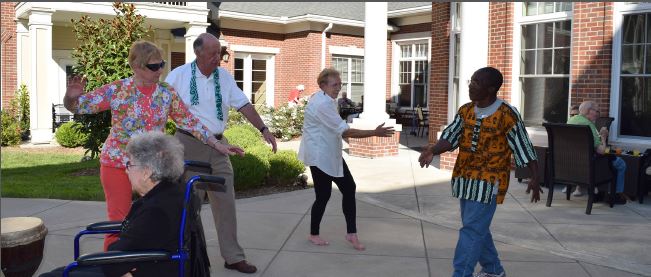 May 17, 2019