Facilities Management: 3 Jobs in Senior Living that May Surprise You
"The sky's the limit" when it comes to the different types of career opportunities available at Masonic Homes Kentucky. You can start building a future in a career that doesn't feel like a job. A vital branch in Masonic's network of positions is facilities management, "the services that support the functionality, safety, and sustainability of buildings, grounds, infrastructure, and real estate." Security Officer, Grounds and Landscaping Crew Member, and Maintenance Generalist are three facilities management positions that make Masonic successful. These positions directly impact our residents' experience at Masonic.
Security Officer – Safety First in Facilities Management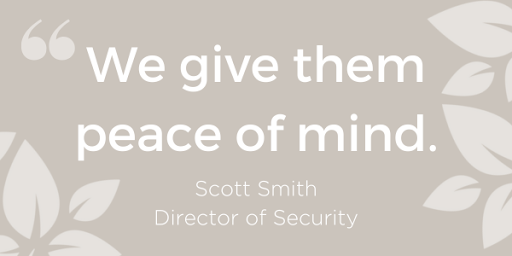 Security officers provide excellent customer service and handle situations professionally and with safety in mind. A few of the unique aspects of being a security officer at Masonic include getting to wear many hats and solve a variety of problems. Security officers help residents and their fellow team members daily. Whether it's greeting them with a smile and kind words at the Gate House when they arrive on campus, helping them jump start their car or driving residents and visitors to and from different locations on the property. They are individuals we know we can rely on. Five traits that security officers exemplify are
ability to take orders
clear communication
punctuality
integrity
respect
Two priority objectives of this position are providing excellent customer service and handling situations professionally. Keeping these at the forefront of the security officer's mind ensures overall success in the position. While there is much expected of this position, there is also much to receive from it. Director of Security Scott Smith listed the best parts of the role as meeting residents, interacting with them, helping them out, and overall making their day better.
Grounds and Landscaping Crew Member – Growing in Facilities Management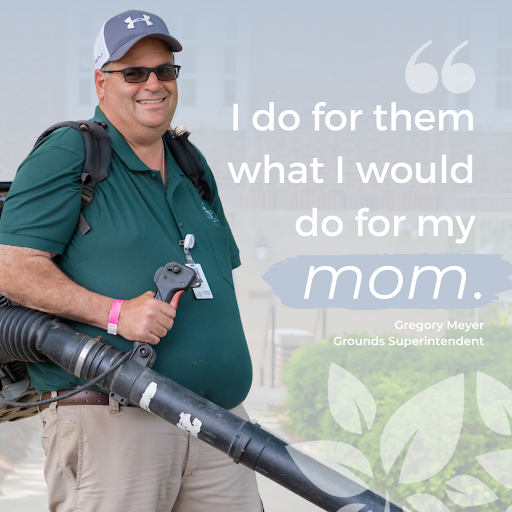 Another position you may not have thought of that directly impacts the residents' experience at Masonic is the Ground and Landscaping Crew Member. Beautification of our 82-acre campuses in Louisville and Shelbyville, Kentucky are a high priority for the grounds crew at Masonic. The grounds are the first thing our team, residents and visitors notice. They are a direct reflection of the type of care and attention we give our residents.
You might be wondering, when do they have an opportunity to interact with residents? Our campus is designed to keep residents and the community active, with features like our Walking Path, it's easy to do. The Grounds team members will often stop and chat with residents, students and team members who are out walking on campus. We also have raised gardening beds for residents and many of our Grounds team members will help them get supplies or just see what they are growing. It's a great opportunity to get to know one another.
There are a number of tasks that team members complete year round such as mowing, pruning, plant installation, weeding, watering, mulching, pesticide application, trash collection, wildlife management, and leaf collection. While these tasks aid in the beautification of the campuses they also aid in safety, such as snow and ice removal. Grounds Superintendent Greg Meyer said it best: "We do it all for the residents." People who succeed in this position are self-motivated and able to work alone or with a team as well as
energetic
honest
flexible
keen eye for detail
willingness to take direction
Maintenance Generalist – The "Mr. Fix-It" in Facilities Management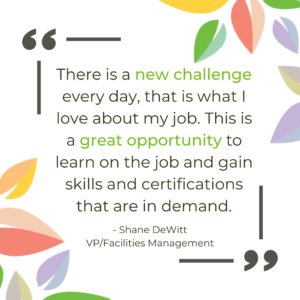 Maintenance generalists are key to the day-to-day safety, working and living conditions of our residents, team and visitors. This position performs routine general facilities management tasks like minor building or apartment repairs and overseeing or repairing equipment and utility systems. Maintenance generalists keep Masonic running efficiently as they complete tasks in a cost-effective manner to safely meet residents' needs. The vast amount of square footage on each campus requires maintenance generalists to be an additional set of eyes for the Director of Maintenance and report to him the overall condition of equipment and furnishings.
"There is a new challenge every day, that is what I love about my job. I've been in this role for 18 years and I tell my team that we have to be excellent jugglers – the variety of maintenance projects range from basic to specialized skills. This is a great opportunity to learn on the job and gain skills and certifications that are in demand." – Shane DeWitt, VP/Facilities Management
These three non-clinical positions provide opportunities to work with residents and deliver vital services for their safety and well-being. Whether it be in the position of security officer, Grounds and Landscaping crew member or maintenance generalist, there are ways you can begin your new and impactful senior living career. Apply today for a new career that makes a difference!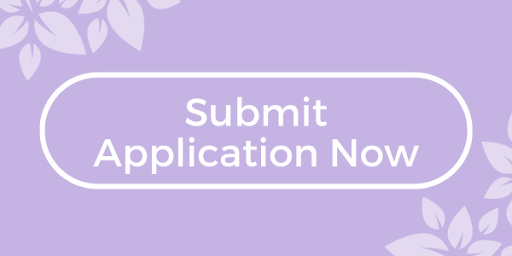 May 10, 2023