Couples Glove Up to Fight Parkinson's Disease
Intense activity has shown to slow the progression of Parkinson's disease. For couples with one person managing a Parkinson's diagnosis, like Dr. Richard Fellows and Lew Ketcham, the introduction of Rock Steady Boxing at Masonic Homes Kentucky offered a way for them and their wivess to 'glove up' and fight the disease together. Other residents have found it a fun way to stay active together.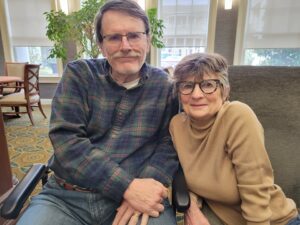 Lew Ketcham participated in the program prior to moving to Miralea Active Lifestyle Community, and took every opportunity to mention the program to Miralea's life enrichment supervisor. When it was offered on-site, Barbara Ketcham went along as support Lew. What she found was another activity she and Lew could do together. She said, "Quite frankly, it is a really good workout. And it's fun. Everyone works at their own level."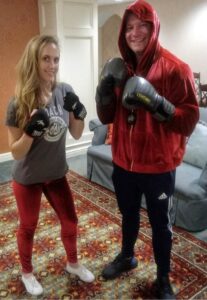 The program is led by Eric Richardson and Erica Ganong. Erika started experiencing tremors at age five, and was diagnosed with essential tremors and cervical dystonia at age 13. She was leading a support group for people with tremors, dystonia, Alzheimer's and other related conditions when Eric approached her about becoming a Rock Steady Boxing coach.
"Our program reaches more than 150 people in the local Parkinson's community and hundreds more in the region, said Eric. "The turnout at Masonic has been steady, and the participants are not shy about expressing how much they love the program. The word you hear the most in every class is fun. Our goal is to always make class fun and ever-changing." Diagnosed with Parkinson's in 2016, Dr. Richard Fellows, a retired pediatric radiologist and his wife Bonnie are always up for something new. "We are curious and adventurous, so we try all the new programs," said Richard.
When asked what he enjoyed most about the program, Richard stated, "Exercise is one of the most important medicines. It helps you keep a good mental state. I'm convinced it's my best medicine overall because it helps with depression." Bonnie, a retired pediatric occupational therapist, added, "When something is purposeful, people are more likely to participate. Rock Steady Boxing is playful and fun, while addressing issues like balance and agility. It's very much an occupational therapy program."
It's important to know that Rock Steady Boxing is not just for people with a Parkinson's diagnosis. Every class is different, and focuses on helping with hand-eye coordination, balance and mobility.
For Ed and Barbara Staats, it has helped them gain fitness and focus on self-care. Married in 2019, the Staats initially met in a support group at a memory care community, where they were both caregivers for their late spouses. They moved in to one of Miralea's patio homes and discovered the Rock Steady Boxing program.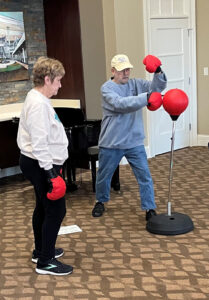 "We were both physically active until the demands of caregiving took precedence. One of our favorite pastimes now is to take part in the class. It has helped us get back in shape with exercise for the brain as well as the body. It provides us just the right mix of physical activity and brain development to help us remain healthy in our later years," said Ed.
The Rock Steady Boxing program is offered twice on Tuesdays at Masonic at 11 am at Miralea and again at 1 pm at the Village Business Offices. "We have many residents who take both classes," said Eric.
As for Eric, the instructor, Lew said it the best. "I'm not sure how, but Eric understands what we're going through."
June 8, 2022