Care Across Generations
The broad range of services at Masonic Homes Kentucky helps a close-knit family stay together.
Maryrose Laun is a mother to five daughters. When each moved out of the family home, she never expected to share an address with any of them again. But as fate would have it, Maryrose now has not only one, but two, of her daughters with her again, this time on Masonic Homes Kentucky's Louisville Campus.
Mary Pat is the oldest of the five sisters. When she suffered a stroke in 1997, her younger sister, Kim, left her job as a recovery nurse to help her rehabilitate. With Kim's patient care and support, Mary Pat lived independently for nearly 20 years, but eventually chose the additional peace of mind of having assistance if she wants it in the future. She moved into Village Active Lifestyle Community in 2014.
"Anytime you move, it's tough because you're nervous about making friends, but Mary Pat is the happiest she has ever been," said Carin Isaacs, the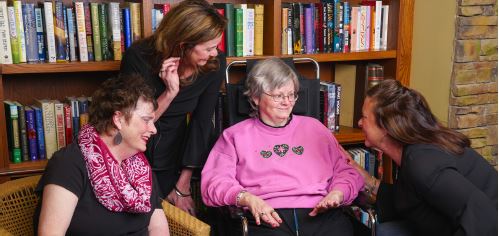 youngest sister in the family. "She has the closest friends; she loves it there. She gets up in the morning and she cannot wait to go out and have lunch with her friends and play cards."
Kim, the second oldest, moved to the Sam Swope Care Center in 2016 after being diagnosed with frontotemporal dementia. Carin says that the friendship between Mary Pat and her younger sister is unmatched, and when they had the opportunity to live on the same campus, the family was delighted that the continuum of care at Masonic could meet Mary Pat's and Kim's unique and individual needs so they could stay close. "We've just been so happy with everyone on the staff; they're all so sweet," said Carin. "It's been lovely."
Maryrose had been living on the river in Goshen, but after two falls knew that it was time to explore other living options. "I didn't want to wait until something really bad happened," she said. "(Mary Pat and Kim) paved the way for me; they were already (at Masonic) so it was a very easy decision to make when my doctor recommended I start looking for a place to move."
Maryrose moved to Grove Pointe Assisted Living Community when it opened in late 2018. "It's just so nice being close to my daughters here on campus."
Since her move, she loves being closer to her family and taking advantage of everything that Grove Pointe has to offer. "I went to a gym for the first time in I don't know how long," said Maryrose. "I lived thirty minutes away from downtown Louisville and there wasn't much close to me, so having everything in one place is really nice." Maryrose is not the only family member who enjoys the convenience of having loved ones close by.
"Mother told me she wanted a new pair of tennis shoes, so I found her some shoes. Then she asked me to go to the department store with her for new workout clothes," said Carin, who often rides her bike from her home in Indian Hills to visit her mother and sisters. "For me to just pop over and do that is completely manageable. I can go see my family, but still make the carpool at my son's school."
Providing the optimal level of care for each unique family member has also made celebrating the good times easier for the whole family. When the family's two other sisters — Jacki from Lexington and Laure from Atlanta, Georgia — made a Christmas visit last year, 14 family members gathered on campus to celebrate the holiday.
"My children opened their presents and we did everything here," said Carin. "It wouldn't have been possible to have everyone together if we did it at my house, because Kim could not have come, but here it felt more like home…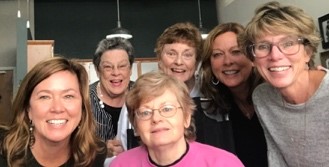 because we were all together."
That feeling of "home" is exactly what Masonic strives to provide.
January 29, 2019