Bridging the Gap
Dance and music outreach program connects Masonic Homes Kentucky's oldest and youngest generations
There's no question that remaining active and engaged has a host of benefits for older adults, including improved cognitive function, higher self-esteem, and lower incidence of depression. But Rachel Bucio Grote, activities coordinator at Sam Swope Care Center at Masonic Home Louisville, knows that something extra special happens when that interaction involves young children.
That's why she ensures that her calendar of programming for residents includes visits from the students at Sproutlings Pediatric Day Care & Preschool, also located on Masonic Home Louisville Campus.
Each Friday morning, a different classroom from Sproutlings makes the short walk to the Care Center and, led by Rachel, the children go up and down the hallways visiting residents and engaging them in dances and sing-alongs.
"Residents tell me that they love seeing the kids," said Rachel. "They're tickled to death about how cute they are. They always say, 'oh, I wish I still had that amount of energy.'"
Though Sproutlings children have often interacted with Masonic residents over the years for seasonal activities and craft projects, it wasn't until Rachel joined the staff last year that the periodic get togethers evolved into more structured visits. Rachel, who owns a dance studio and has facilitated dance outreach programs at Masonic, also incorporated music and movement into the visits.
"When I was told that the Sproutlings children sometimes visit the residents here, I instantly asked if we could do dance and music with them," said Rachel. "There are tons of benefits with it, both therapeutically and creatively. No
matter your age, it's good for your spirit and your soul."
At first, Rachel began by leading the children in a dance class in front of residents in one of the common areas. She would also invite the residents to participate with props or scarves, or other interactive activities. But she soon learned that visiting the residents in their rooms would allow for more interaction.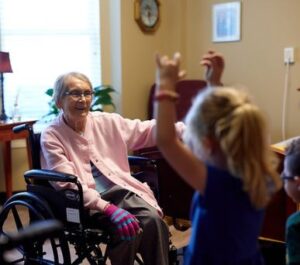 "A couple of the residents asked if we could go room to room to reach more of the residents," said Rachel. "That's been a big hit. Some of the residents here aren't in a position to go out or meet us for our dance classes, so we bring our dance classes to them."
For the residents, interaction with the children not only brightens their day, but may also bring back fond memories or their children or grandchildren, who are often separated by distance and unable to visit frequently.
"I love the children," Henry Harrison, a Care Center resident said. "We had five of our own. I don't get to see my own grandchildren very often, so I really enjoy the students' visits."
Sproutlings lead preschool teacher Lauren Bonifacino said the visits are just as beneficial to the children as they are the residents, as it reinforces the sense of kindness and inclusivity Sproutlings staff hope to instill in their students. Sproutlings is unique in that it is the only program in the region that integrates both medically fragile and typically
developing children in the same classroom.
"The kids are becoming more aware of how they can impact someone's day and are learning to be kind and accepting
and welcoming in a situation where they may not find themselves every day," said Lauren. "That's really our whole philosophy here. We teach a lot about kindness and acceptance and including everybody. These intergenerational activities are a natural extension of that."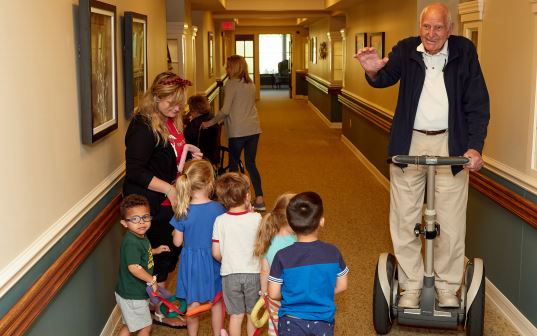 November 12, 2019