A Good Investment
Masonic Homes Kentucky's team includes more than 600 professionals in fields ranging from nursing to occupational therapy to administrative. Masonic Homes has a service-based culture focused on resident satisfaction, with a workforce that works every day to exceed the expectations of the people served.
Beyond that service-based culture is also one focused on attracting and retaining top employees, as well as ensuring the long-term health and happiness of its people.
Learn more about some of the ways that Masonic Homes is investing in opportunities to create a top-notch environment for its employees, potential employees, and in turn, its residents.
Educational Opportunities
Many people may want to further their education, but do not have the means to do so. The recently-established Walters-Judy Scholarship at Masonic Homes is addressing that dilemma and helping break down barriers to advancement for employees.
The scholarship was established in 2018 by Masonic Homes Board Member, Martin Walters and his wife, Stephanie. Their efforts merged with those of the Judy family after Jim Judy, a longtime member of the Masonic Homes Board of Directors, passed away last year and bequeathed funds to Masonic Homes.
The scholarship was created after seeing that many promising staff members were interested in moving up into health care roles or into higher health care roles, but did not have the means to do so.
"We know this is very important to our success," said Trasee Whitaker, Sr. VP/ Human Resources and Chief Human Resources Officer for Masonic Homes. "We're so grateful to the Walters and Judy families in helping us establishing this fund."
Masonic Homes has partnered with Bethel University for an online nursing program that allows participants to attain a Certified Nursing Assistant (CNA) certification, Licensed Practical Nurse (LPN), Registered Nurse (RN) or Bachelor of Science in Nursing (BSN) degree. Because courses are online, employees don't have to miss work to attend school.
"What we've seen since launching the Walters- Judy Scholarship is that our turnover has decreased and we're getting more people to apply," said Trasee. "We're beating that health care recruitment and employment gap."
More employees staying at Masonic Homes for the long run equates to greater expertise, as well as happier employees and residents.
Employee Wellness Program
Along with programs that address education, programs that address employee health are also important to Masonic Homes. After all, a healthier employee is often a happier employee. Thanks to the START program at Masonic Homes, there are plenty of smiling staff members working towards better health.
The START (Steps to a Real Transformation) program strives to motivate, influence and support Masonic Homes employees to make healthy, well-informed lifestyle choices. Those who join the program are encouraged to set goals and overcome health challenges.
Part of the program is to showcase healthy foods, and how easy it can be to make small, positive changes throughout the day. As part of that effort, START committee members deliver nutritious foods to employees once a month. Recent deliveries featured hummus, pretzels and granola donated by Fresh Thyme, though fruit is often a key offering as well.
START offers wellness and health-centered events throughout the year, offering biometric screenings, including blood pressure, glucose levels and cholesterol checks. Along with those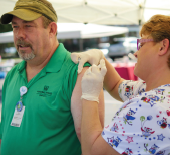 items, walking groups and yoga classes are also offered, as well as discounted gym memberships.
Jimmy Yates, Vice President of Internet Technology Services for Masonic Homes, said that while he has always lived an active lifestyle, he hadn't always subscribed to a healthy diet. The START program has helped him develop a better diet and, ultimately, an overall healthy lifestyle.
"This program has enabled me to see if I'm eating enough green vegetables and two to three servings of fruit every day," said Jimmy. "Before, I was more concerned about volume. I thought I could eat what I wanted because I worked out so much, which was not the case."
Jefferson County Public Schools Partnership
Masonic Homes also aims to connect with the next generation and expose young people to the world of health care and aging care. Now, through a partnership with Jefferson County Public Schools and the system's Academies of Louisville initiative, this goal is possible.
The Academies of Louisville initiative was launched during the 2017-18 school year at 11 of the district's high schools, with plans to expand to more schools during the 2018- 19 year.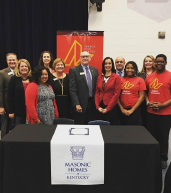 Implementation will take three to four years for each high school. Masonic Homes is paired with Seneca High School and Waggener High School.
By connecting high schools to business and community partners, the Academy model aligns education and workforce development needs to better prepare students for postsecondary and career success.
"Our business partners are working one-on-one with the Academies of Louisville to transform education, strengthen economic development and increase community prosperity for all of us," said JCPS Superintendent Marty Pollio when the initiative was announced, adding that "what happens in our classrooms today impacts what happens in our world tomorrow."
Academies are small learning communities focused on the careers and industries that strengthen the local economy. For years, students have asked "Why am I learning this?" The Academy model answers that question by connecting education today to the needs and expectations of our world tomorrow.
Women in Leadership
Along with attracting young people, Masonic Homes also aims to attract and grow women into leadership roles in the organization through a new six-month professional development program. The program began in March 2018 and will run through August. It invited 30 high-potential, emerging and established leaders to be part of the program.
Already, 85 percent of Masonic Homes employees are women, and more than half of management employees are women, he noted. Women are also the primary decision makers for selecting nearly all Masonic Homes services including aging care, child care and health care services.
Nominations were based on supervisor recommendation, commitment to Masonic Homes values and the potential to become a mentor to other employees. The leadership program utilizes community and business leaders, local executive coaches and Masonic Homes corporate leaders to conduct each session. Sessions focus on developing greater awareness of participants' leadership style, gaining a deeper understanding of the Masonic Homes business position and industry challenges, and forming connections among company leaders.
The format is modeled after similar sustainable women in leadership initiatives that have been found to attract and retain employees, and improve financial performance. The opportunity to pay it forward and continue to create a culture of female leaders is a key part of the program.
November 17, 2018