The Art of Hat Making
March 27 / 10:00 am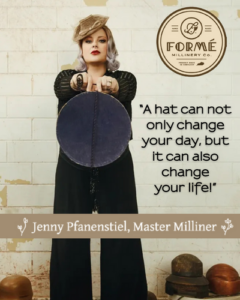 The art of millinery dates back centuries, and Louisville is blessed with the creativity of one of the foremost milliners, Jenny Pfanenstiel. She has been the featured milliner of the Kentucky Derby for four consecutive years, and the official milliner of the Kentucky Derby Museum.
Here's your chance to hear about her journey in the milliner industry, the specifics on hat making including the unique raw materials she uses from around the World. She will show the wooden hat blocks she uses to make each hat by hand. Light appetizers and beverages will be served, along with door prize opportunities.
This event will be held in the Artisan Room at Meadow Active Lifestyle Community, 3701 Frankfort Ave., Louisville, KY 40207.
Seating is very limited. Reserve your place for this exclusive event by calling 502.515.2455 or by submitting the form below.